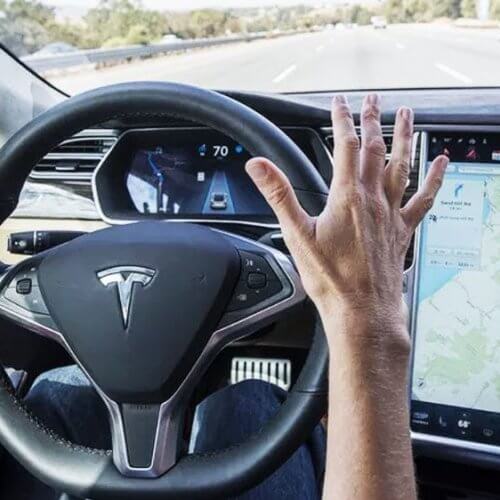 Tesla has beamed about their great advances in modern day technology with the introduction of their semi autonomous autopilot system. The new system is essentially an adaptive cruise control system that keeps driving pace on its own to keep pace with the cars around you. Additionally, through the use of cameras, ultrasonic sensors, and forward-facing radar, Tesla's new system gathers data to center your vehicle between the stripes with its lane-keeping system.
Unfortunately, although the auto-pilot system does detect if you take your hands off the wheel, even warning you, decelerating the vehicle to a stop, and turning on the blinkers, there have been several crashes due to the auto-pilot system. Since some of the crashes have been fatal, it's important to understand the dangers of the system, the injuries you can endure, and what to do if you are injured because of the Tesla auto-pilot system.
Tesla Autopilot Accidents
Of course, just like humans, autopilot systems are not without faults. The issue is that Tesla uses marketing tactics that report the system has effectively reduced crash rates by 40%. This creates a false sense of security for Tesla owners and drivers. One that can cause drivers to let their guard down, resulting in more serious accidents.
According to one study, reviewing a March 2018 fatal crash in California, it was found that despite warnings, the brake system was not activated before the driver slammed into a concrete divider. This study, and one from a 2016 fatal Florida crash, started a buzz about the safety of Tesla's autopilot feature. Has the company gone far enough to ensure that it keeps drivers and passengers safe?
The main concern with Tesla's autopilot system? The system tricks you into thinking it has more capabilities than it does. While it is not a hands-free system, the company has not done a great job relaying these facts to customers. So, people are using it as such until they are suddenly faced with a life-threatening accident.
The glitches in Tesla's system are anything but minor at this point, causing fatal accidents at times. For example, the 2016 Florida crash that killed an Ohio man revealed that the autopilot camera, the primary senor in the system, failed to recognize a white truck. The reasoning? The bright sky against the white truck confused the camera to recognizing it was a vehicle crossing a rural highway, leading the driver to smash into the tractor trailer.
Although software modifications have already been implemented, it is uncertain how safe the system is. While Tesla markets the system as a vital, life-saving feature of their vehicles, this hasn't seemed to be the case based on user information available at this time.
Tesla AutoPilot Injuries
Like with any car accidents, the injuries resulting from Tesla autopilot crashes can vary based on the severity of the accident. Injuries that are a direct result of Tesla's autopilot system have been reported to be anything from a broken foot to death. Car accident injuries can range from common to unique. Some common injuries include:
Whiplash
Concussion
Cuts and bruises
Bone fractures
Musculoskeletal injuries
Emotional injuries
Head injuries
Chest injuries
Arm and leg injuries
Neck and back injuries
Internal injuries
Injuries that result in death
Tesla Autopilot Safety Cases
In addition to many documented Tesla accidents involving the use of the Autopilot feature, Tesla actually agreed to settle a class action lawsuit, as well. In May 2018, Tesla reached an agreement to settle a class action lawsuit with customers who purchased the Model S and Model X cars with the Autopilot system. The class action suit noted that the Autopilot system was "essentially unusable and demonstrably dangerous."
As mentioned earlier, Tesla used marketing tactics on their website to encourage viewers to believe the cars came complete with capabilities that make highway driving safer. The Autopilot software actually came with a $5,000 fee for buyers looking to purchase a Tesla with these additional safety features. The additional safety features marketed by Tesla included emergency braking and side collision warning, but were inoperable according to the complaint. While the settlement agreement did not admit to the allegations that the Autopilot system was not safe, the company did agree that there was a delay in delivering the Autopilot software to customers who made the purchase.
Lawsuits
Over the past several years, Tesla has been under scrutiny for their failure to deliver on the promise of increased safety features with its new Autopilot software. Wrongful death lawsuits and class-action lawsuits have been filed against the company by several claimants. Additionally, there are several personal injury lawsuits Tesla has fought and is currently fighting. It would be no surprise if we were to see more emerge in the future.
Shawn Hudson, owner of a Tesla model S that crashed on a Florida highway while Autopilot was engaged, is currently in a lawsuit with the company. Luckily, Hudson escaped with no injuries, but his vehicle was heavily damaged when it rear-ended a Ford Fiesta traveling at 80 miles on the highway. Hudson's claim is that the Autopilot system failed to perform as the popular car company advertises.
"Through a pervasive national marketing campaign and a purposefully manipulative sales pitch, Tesla as duped consumers," Hudson claims. He notes through the lawsuit that the company makes consumers believe that the Autopilot system can help "transport passengers at highway speeds with minimal input and oversight." Whether the assumption that the vehicle can nearly drive itself comes from the company's marketing tactics, or the sales representative meeting directly with consumers, it is ultimately the responsibility of Tesla to ensure they make it clear to customers how the Autopilot system works.
Dangers of Tesla's Autopilot System
While driver assistance systems may be a positive move forward in the future of travel, it is the inability to properly portray their intended use that poses a threat to consumers. In Tesla's case, customers have gotten the idea that the technology is more self-driving that is possible at this time. The Autopilot system is intended to enhance safety and make driving easier, but not to replace a driver's attention to the road.
Besides sending the wrong message, other dangers of the Autopilot system include:
Debris or surrounding scenery can compromise the sensors and cameras of the vehicle
Glitches in the system's ability to warn drivers who take their hands off the vehicle
The idea that the system keeps the vehicle within the driver's lane causes drivers to remove their hands from the wheel
Injuries and death that result from system failure
What to Do If You Are Injured in a Tesla Autopilot Crash
If you are injured in a crash while Tesla is engaged in Autopilot, you may be entitled to compensation. Drivers who suffer injury as a result of Tesla's Autopilot software should see a personal injury attorney as soon as possible. Additionally, family members of Tesla drivers who have lost their life due to an accident, may be entitled to wrongful death compensation.
So, what should you do if you are injured as a result of an accident involving a Tesla? Contact a qualified, knowledgeable personal injury attorney as soon as you are able. Be sure you keep track of all details from the crash. While it may be difficult to collect your thoughts in a nerve wracking occurrence like an automobile accident, try to remain calm. The best way to make the most of your lawsuit are to do the following:
Take as much information away from the scene as you can
If the accident involves another car, gather the name, address, and phone number of the other driver
Make note of any witnesses and gather their personal information as well
If possible, take photographs of the scene
Jot down any details you can remember from before the accident occurred
Be sure the police draw up a report
Take detailed notes of any injuries you experience as a result of the accident
Gather the police report from the scene of the accident
Gather all your medical records
Once you've done everything to gather the information your personal injury attorney will need, they will do the rest of the work. When you find an experienced personal injury attorney in Chicago, you can be sure they'll take the necessary steps to get you the settlement you deserve.
"
David Delivered More than Expected for Me in Every Way
"
5 stars
"Working with David was a pleasure. From the first time I spoke to himI felt at ease with him as he seemed more concerned with my well-being before all. He was always keeping me updated on everything every step through the process and was always available for me if I had a question. David delivered more than expected for me in every way and I would recommend him to anyone. A real class act with your best interest at heart!"
Frank T.
https://schwanerinjury.com/wp-content/uploads/2018/11/Tesla-Autopilot-Accidents.jpg
562
1004
Julie Dunn
https://schwanerinjury.com/wp-content/uploads/2016/04/Logo-837x321.png
Julie Dunn
2018-11-20 23:09:50
2018-11-20 23:09:50
Tesla Autopilot Accidents