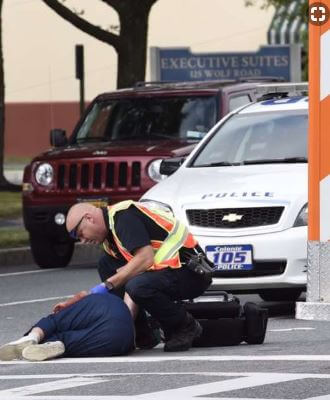 If you've been hit by a car, you know it's a thing to happen. The injuries that can come from a pedestrian vs. vehicle accident can be severe. Even if the cause of the accident is of no fault from the driver, you are likely entitled to financial compensation if you've been a victim of a pedestrian vs. vehicle accident.
Let's take a closer look at the injuries that occur when pedestrians are hit by a car. What is the most common cause of these accidents and where do they happen? Why is it important to contact a lawyer if you've been injured from this type of accident? Here's everything you need to know if you or someone you love has been involved with a pedestrian vs. vehicle accident.
Common Injuries When Pedestrians Are Hit by a Car
Accidents that involve pedestrians who are hit by a car can be complicated. While many minor motor vehicle accidents don't result in injury, most pedestrian vs. motor vehicle accidents cause some type of injury. And, the likelihood that these accidents result in severe injuries and even death is higher.
According to the Center for Disease Control, patients are killed in pedestrian accidents every two hours. Over 150,000 people are injured when hit by a car every year. When you look at these statistics, it's scary to think what can happen if you are hit by a car. Lawmakers work diligently every year to improve safety regulations, traffic laws, street designs, and public awareness of the risk of these types of accidents. Still, the statistics are high for serious injuries that occur every year as a result of pedestrian vs. motor vehicle accidents.
Unfortunately, the most common group of people hit by cars are young children. While the injuries sustained vary from patient to patient, and are based on the severity of the accident, the most common injuries suffered are to the chest, abdomen, head, and limbs. The factors that affect the type of injury sustained are:
Driver's speed
Type of vehicle
Size of vehicle
Pedestrian's size
Pedestrian's age
Health of pedestrian
The more common injuries sustained in pedestrian collisions are:
Head trauma- Any time an injury is sustained to the head, it can be complicated. That's because many head injuries end up affecting the brain. Traumatic brain injuries can be minor, but they can also be life changing and life threatening. The brain is a complicated organ and must be treated with care. Any time you think an injury may have been sustained to the head, it's important to seek medical attention and observe the possible effects of the injury on the brain. Head trauma that affects the brain can cause:

Permanent brain damage
Loss of memory
Loss of mobility
Behavioral changes
Loss of cognitive abilities
Paralysis
Loss of strength

Internal injuries- These can range from minor to serious, as well. The most common internal injuries sustained in this type of accident are:

Internal bleeding
Broken ribs
Brain bleeds
Bruising

Pelvic injuries- The way a vehicle is designed makes pelvic injuries a common occurrence when pedestrians are hit by a car. Fractures to the pelvis, broken bones, tears, and strains are common.
Spinal Cord Injuries- When an injury is sustained to the spinal cord, it can result in life-changing consequences. The spinal cord's main function is to transmit signals between the brain and the body. Even minor damage can affect a patient's outcome. Sometimes slight damage can be devastating. And, serious damage can result in death.
External injuries- Broken bones, fractures, cuts, bruises, and scrapes can occur when a pedestrian is hit by a car. Depending on the severity of the injury, these can be painful. Some cuts require surgery. Some of these injuries can lead to permanent damage and chronic pain for the entirety of a patient's life.
Paralysis- When injuries are sustained to the spinal cord, neck, and back, a patient may end up paralyzed. Paralysis can be temporary or permanent. It can range from minor to the inability to move completely.
Death- In the most severe cases, patients can die when they are victim of a pedestrian collision.
Where Do Pedestrian Accidents Commonly Occur?
The majority of pedestrian vs. vehicle accidents occur in the larger populated areas. Largely populated urban states tend to report more pedestrian collisions than densely populated rural states, for example. Illinois, New York, Texas, California, for example, have large cities that carry a higher risk of pedestrian accidents.
Pedestrians may be running, walking, on foot, or on bicycles. The majority of these accidents occur at night when visibility is reduced. In some cases, weather conditions may increase the likelihood of this type of accident. The majority of these accidents are reported to occur in non-intersections. Since things like crosswalks, sidewalks, and cross lights are used to prevent these type of accidents, drivers tend to be more cautious in these areas.
Verdicts and Settlements from Pedestrian Accident Lawsuits
When pedestrians become victims of these type of accidents, they are generally entitled to compensation. There is a long history of lawsuit settlements that end favorably for victims. With high quality representation, patients can recover the compensation they deserve and get themselves set on the road to recovery.
Examples of settlements in previous cases are:
$5M for Victim with Traumatic Brain Injury
$4.2M for Wrongful Death Settlement
$3M for Fatality
$2.7M for Pain and Suffering
$2M for Pedestrian Struck by a Truck
Settlements range from the millions to a couple thousand dollars. Compensation can cover medical expenses, lost wages, disability, and pain and suffering. Compensation varies based on the severity of the accident and the injuries sustained. In cases where a family member was a pedestrian killed by a car, the surviving family may be entitled to wrongful death compensation.
What Causes Pedestrian Collisions?
In many cases of pedestrian versus motor vehicle collisions, the pedestrian is at fault. Some reasons pedestrians might be at fault in these accidents is because they run or step out into a road or intersection without paying attention to what is going on around them. Pedestrians who cross the street when the "do not walk" sign is displayed, are likely at fault. Additionally, crossing prohibited roads, intersections, and highways may be a common cause.
When a driver is at fault, the most common causes are:
Failure to stop
Blind spots in the vehicle when backing up or turning
Swaying off the road when not paying attention
Failure to follow safety precautions
Reckless driving
Additional causes of pedestrian collisions include:
Unmarked crosswalks
Left-handed turns with an increase in blind spots
The use of electronics while driving
Pedestrians wearing dark clothes
Alcohol use
Do I Need a Personal Injury Attorney if I've Been Hit by a Car?
If you have been a victim of a motor vehicle collision as a pedestrian hit by a car, you should contact a personal injury attorney. Additionally, if someone you love has been injured or killed during a pedestrian collision, you should hire a personal injury attorney. When you find an experienced personal injury attorney in Chicago, you can be sure you get the compensation you deserve.
Personal injury attorneys can help handle the legal proceedings while you focus on recovery. They know what you need to make the process smooth and effective. A personal injury attorney has the knowledge to navigate the system and get the most of your settlement. They will be able to gather witnesses, collect medical information, prove liability, and hold the personal responsible who caused your accident. Since personal injury attorneys know the specifics of safety regulations and the law, hiring an attorney to handle you case is the best way to get the results you deserve.
If you have been injured in an accident where you were a pedestrian hit by a car, contact a personal injury attorney. They will review your case and tell you whether or not you are likely to win. They will then get to work at gathering the information you need to make the most of your lawsuit. Your focus should be recovery; their focus will be getting you the money you need to recovery as much as you can.
"
David Delivered More than Expected for Me in Every Way
"
5 stars
"Working with David was a pleasure. From the first time I spoke to himI felt at ease with him as he seemed more concerned with my well-being before all. He was always keeping me updated on everything every step through the process and was always available for me if I had a question. David delivered more than expected for me in every way and I would recommend him to anyone. A real class act with your best interest at heart!"
Frank T.
https://schwanerinjury.com/wp-content/uploads/2018/12/Hit-by-a-Car-Lawsuit-Settlement-Guide.jpg
400
330
Julie Dunn
https://schwanerinjury.com/wp-content/uploads/2016/04/Logo-837x321.png
Julie Dunn
2018-12-14 08:00:12
2018-12-14 11:52:47
Hit by a Car Lawsuit Settlement Guide