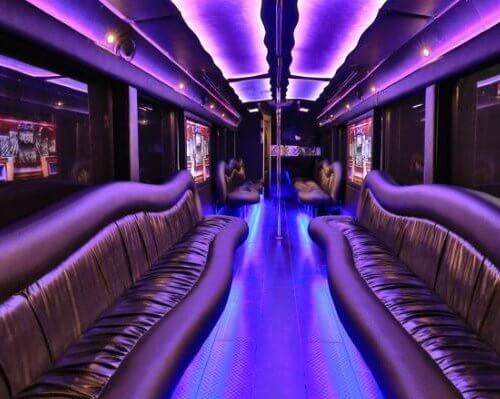 Limo and party bus injuries are in the limelight these days after the deadly limousine crash in New York this year.  Days after a deadly crash that would kill 20 people, officials revealed that the crash could have been avoided for a number of reasons. The driver had an improper license, the limousine company had a trail of failed inspections and ties to illegally obtained driver's licenses, and the limousine had been deemed unsafe.
The mounting questions sparked a nationwide discussion about liability when it comes to limo and party bus injuries. While we all face risks when our vehicle hits the road, limo and party bus companies are liable to a certain degree, especially if the cause of the accident is due, to some extent, to their negligence. Here's all you need to know about the injuries and causes of limo and party bus accidents and what to do if you are injured as a passenger in one of these vehicles.
The Injuries that Occur from Limo and Party Bus Accidents
There are several injuries that passengers in limo and party bus accidents can sustain. From broken bones to paralysis, injuries vary based on the severity and type of accident in which you are involved. In serious crashes, passengers can sustain injuries that result in death. The injuries that occur in limo and party bus accidents are similar to most motor vehicle accidents.
The complications that arise with these type of accidents include:
Lack of safety restraints for passengers in limos and party buses
Defective and improperly maintained vehicles increase the severity of accidents
Many party bus and limo accidents occur in vehicles that have been illegally constructed
Large, higher vehicles are more likely to spin or flip
The most common injuries of limo and party bus accidents include:
Whiplash
Cuts, scrapes, and abrasions
Broken or fractured bones
Head injuries
Broken ribs
Internal bleeding
Back and neck injuries
Knee and leg injuries
Post Traumatic Stress Disorder
Other psychological disorders
Paralysis
Injuries that require surgery
Death
How Injuries Can Affect Passengers
Injuries sustained in limo and party bus accidents can affect patients in many ways. In addition to the passengers of the accident, family members may have a difficult time navigating the recovery process. The effects of limo and party bus accidents are different from patient to patient. But, they are commonly somewhat similar. These common injuries result in the following affects:
Whiplash- Whiplash is an injury to the muscles, ligaments, and tendons in your body. When the body moves quickly in a car accident, patients may sustain whiplash. Whiplash can be extremely painful. Depending on its severity, it can take anywhere from a few days to a few weeks to resolve.
Scrapes, Cuts, and Bruises- Scrapes, cuts, and bruises are common from motor vehicle accidents. While they may be painful, they are usually not a major cause of concern. Some more severe cuts may require stitches, and even surgery. The most common affects of these injuries are internal bleeding, infection, and blood loss.
Head Injuries- Head injuries can be one of the more complicated motor vehicle injuries to handle. That's because they involve the brain. The affects of traumatic brain injuries and other injuries can be immediate or long lasting. More severe head or brain injuries can lead to long-term complications such as insomnia, headaches, memory loss, loss of cognitive abilities, permanent brain damages, and behavioral complications.
Broken Bones- When an accident leads to broken bones, the injuries can range. From fractures to bone chips, some injuries are easy to navigate and heal with a little bit of TLC. While most broken bones can be casted, helping them to properly heal, some need to heal on their own. Broken ribs can be particularly difficult to deal with because they can't be casted, they are painful, and they require lengthy periods of rest. In severe cases, broken bones require surgery and can lead to more damaging complications. Breaking certain bones can lead to paralysis or death, like the neck or spine.
Internal Bleeding- Internal bleeding can be very dangerous. While some resolves on its own, you should always seek medical attention for internal bleeding. Since some cases of internal bleeding are difficult to notice, you should always get checked if you are involved in a motor vehicle accident. In many cases, internal bleeding can be life-threatening.
Other Bodily Injuries- There is a broad range of bodily injuries that can result from a motor vehicle accident. They vary in healing times, and some may result in long-term damage. Back and neck injuries, for example, may result in chronic pain and loss of mobility.
Psychological Injuries- One of the most common psychological injuries seen after motor vehicle accidents is Post Traumatic Stress Disorder. It may be difficult to navigate the worry, pain, fear, or guilt that comes from emotional injuries. Flashbacks, mental distress, and other psychological injuries may require mental health treatment and can last a lifetime.
Paralysis- Some passengers sustain injuries that can lead to paralysis. Paralysis can be temporary or permanent. It can range from loss of mobility in a single hand to the inability to move completely.
Death- In severe cases, limo and party bus accidents can lead to death. While patients may suffer before death, it is often the family and friends of patients who sustain the emotional impact of this unfortunate effect of motor vehicle accidents.
What Causes Limo and Party Bus Accidents
While some accidents involving limo and party buses are of no fault to the driver, you may be entitled to compensation if you are involved with an accident that was the driver's fault. Additionally, manufacturer or owner negligence have been a cause of limo and party bus accidents. Some issues of negligence that may lead to motor vehicle accidents are:
Safety and Regulation Problems– Unfortunately, in some cases, regulatory and safety violations have been reported as a cause of limo and party bus accidents. Some personal injury cases have determined that the vehicles involved should have never been on the road. Passenger-carrying vehicles are generally required to be registered with the U.S. Department of Transportation. They should display a USDOT number on the vehicle. This gives the DOT the chance to place regulations and restrictions on vehicles used to carry multiple passengers. Passenger-carrying vehicles require regular inspections and maintenance. This is a great way to prevent some serious accidents and injuries from ever occurring. In addition, passenger-carrying vehicles are required to maintain a certain level of insurance. As the vehicles get bigger, regulations and requirements become greater and stricter.
Illegal Altering of Vehicles– A recent NY crash that killed 20 passengers revealed that the limousine company who owned the vehicle involved was legally responsible for the death of the passengers. In some cases, vehicles are converted to stretch limousines in a way that doesn't meet the industry standards set for safety. When a company converts these vehicles without following the standards and regulations, it can compromise the structural integrity of the vehicle. This can result in avoidable accidents and injuries.
Limo and party bus accidents that are a result of negligence or driver or company liability, have resulted in personal injury settlements that can range into the millions.
Should I Contact a Personal Injury Attorney in Chicago?
If you have been injured in a limo or party bus accident, you may be entitled to financial compensation. The amount of compensation varies based on the accident and the extent of your injuries. You should contact a personal injury attorney as soon as possible. Since monetary compensation ranges, your personal injury attorney can help ensure you get the settlement you deserve.
Your personal injury attorney in Illinois will take care of the legal aspect of your lawsuit so you can focus on recovery. Compensation can include medical expenses, lost wages, short or long term disability payments, and even financial compensation for pain and suffering. When you hire a knowledgeable attorney, they know how to get you the highest amount of compensation in the quickest time frame.
"
David Delivered More than Expected for Me in Every Way
"
5 stars
"Working with David was a pleasure. From the first time I spoke to himI felt at ease with him as he seemed more concerned with my well-being before all. He was always keeping me updated on everything every step through the process and was always available for me if I had a question. David delivered more than expected for me in every way and I would recommend him to anyone. A real class act with your best interest at heart!"
Frank T.
https://schwanerinjury.com/wp-content/uploads/2018/12/Limo-and-Party-Bus-Injury-Lawsuits.jpg
399
579
Julie Dunn
https://schwanerinjury.com/wp-content/uploads/2016/04/Logo-837x321.png
Julie Dunn
2018-12-12 08:00:04
2018-12-11 23:34:27
Limo and Party Bus Injury Lawsuits