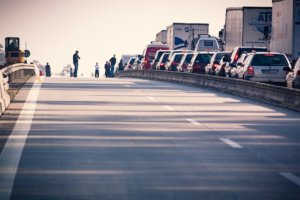 COMMON CAUSES OF CHICAGO TRACTOR-TRAILER ACCIDENTS
The reasons for tractor-trailer accidents vary by circumstance, but there are some fairly common reasons why accidents occur. Some include:
Driver negligence. According to the American Trucking Association, there is a nationwide shortage of drivers on the road. That doesn't mean that there is any less demand for goods to be transported, however. That means drivers will often log more hours on the road than they are legally allowed, leading to both driver fatigue and inattentive driving. Experts estimate that driver fatigue could account for nearly half of all accidents involving a tractor-trailer. Drivers may also use drugs or alcohol while driving, which has been shown to be one of the leading factors relating to tractor-trailer accidents.
Negligence on the part of the trucking company. Despite regulations controlling the number of hours a driver must log as training time, many companies send inexperienced drivers out or fail to fully vet new hires, putting others on the road at risk.
Violations of laws. Many trucking companies hire drivers who don't have a valid commercial driver's license (CDL) or many drivers keep two sets of log books – one with their actual hours, another to show officials at weigh stations – in order to bypass federal restrictions on the amount of time they are allowed to be on the road without a break.
Failure to do proper maintenance. Trucking companies are required to ensure that their semis are safe on the road, but faulty brakes, loads that are too heavy, improperly installed or inadequate safety equipment and other negligent maintenance issues may all potentially lead to a crash.
Speeding. Drivers are likely to speed in order to meet tight delivery deadlines, which makes it more difficult for drivers to control their vehicles. Speeding is particularly dangerous in certain weather conditions or driving through mountain terrain.
Weight and loading issues. There are reasons why weigh stations pepper America's highways. Drivers travel under specific regulations regarding not only load weight limits, but also how cargo is loaded on a trailer. Improperly loaded trucks or trucks carrying too much weight are more likely to suffer brake failures, rollovers, jack-knife incidents or tire blowouts, all of which present very real dangers for others on the road.
Aggressive driving. Many drivers are in such a hurry to get where they are going that they fail to recognize the dangers of driving on the road with a tractor-trailer. It's important to remember that if you are behind a tractor-trailer and you cannot see their side mirror, they cannot see you. Also, be sure to give a driver plenty of room if you are ahead of a truck and are stopping to turn, because they need extra time to stop without rear-ending you or jack-knifing, which puts not only you, but also others on the road in danger.
We Love our clients and they love us too.
See what they have to say

Working with David was a pleasure. From the first time I spoke to him I felt at ease with him as he seemed more concerned with my well-being before all. He was always keeping me updated on everything every step through the process and was always available for me if I had a question. David delivered more than expected for me in every way and I would recommend him to anyone. A real class act with your best interest at heart!

Best in Chicago; Dave is connected in the area to several doctors/practices and will assist in making sure everything goes as smooth and professional as possible. Great experience and will keep recommending to those in need of a personal injury lawyer!

I would highly recommend Attorney David Schwaner and Schwaner Injury Law, to anyone. Not only is David knowledgeable and a gifted attorney, he's a very sympathetic individual who takes the time to get to know you and your situation. He makes sure to answer all your questions, return all your calls, and always has your best interest at heart. Really top notch attorney, and law firm.

I couldn't have asked for a better injury lawyer. David Schwaner was wonderful to work with. He's straightforward and gets the job done, all the while being most compassionate. I wish I could choose 6s. I'd recommend Schwaner Injury Law above all.

David help our family out he took time out to explain everything and was so caring the car accident was do bad that David cried because my son was shot at 30 times and had a bad injury that needed surgery david work night and day because we did not have the best insurance company

If you want a lawyer with compassion, a conscience, and a strong base of knowledge and experience, David's your guy. I found myself seriously injured while traveling alone. He treated me with respect, patience, and genuine honesty even when I couldn't really advocate for myself or think straight due to medications (this is where his patience came in). While it turned out that there wasn't much any attorney could have done for me, he certainly exhausted every option, and I have no doubt he would have fought well for me had a trial occurred. The only drawback to having hired Mr. Schwaner is that I can no longer tell all those awful lawyer jokes. He ruined them all for me. But that's a price I'm happy to have paid.

I was recommended to Schwaner by another yelper. I Visited this office recently, located in the garner building. They are time efficient people here, things are organized and done when they give you their word to be. After my meeting I must say that the staff is very helpful and David is extremely supportive of his clients. He was ready to answer all questions and commit to necessary steps to help solve the situation immediately. He is one of the best out here!

I am truely grateful to David who dealt with the insurance companies on our behalf. We had our own injury to handle and luckily we were able to come in contact with David. He gave us assurance that he would take care of everything. He was very adamant on keeping us informed of the status of the case throughout the process. I hope that I never have to deal with a situation like this again in the future, but if I do I know I can trust David to relieve our worries and be there for us.