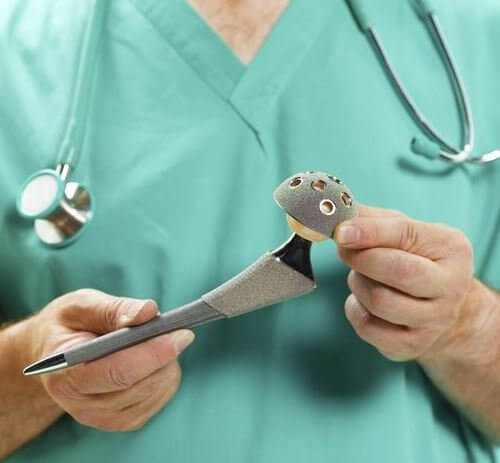 DePuy Orthopaedics, a division of Johnson and Johnson, manufactures and distributes a range of products to reconstructed damaged or diseased joints such as hips or knees.
Globally, about 93,000 people received one of the DePuy products, the ASR XL Acetabular hip replacement system, a metal-on-metal device that was recalled in August of 2010 after a New York Times story revealed that DePuy was warning doctors and orthopedic surgeons about the high malfunction rate of the product, which at the time was about 13 percent – the equivalent of 1 in 8 implants overall – but was not alerting patients who were using the defective hip replacements. (Ref. 1)
Later studies, including a 2012 study from the Journal of Arthroplasty, elevated that number to a 17 percent failure rate, and determined that patients receiving the implants required revision surgery within three years of their initial surgery. By the time the study was published, the failure rate was close to 30 percent. (Ref. 2)
DePuy began using the implants in 2003.
Which DePuy Hip Devices were Recalled?
On August 24, 2010, Johnson and Johnson and DePuy finally recalled the DePuy ASR XL hip replacement system, but only after the New York Times called out the company for telling doctors about problems with the hip replacement systems, but failing to alert patients of possible problems.
The recall was a result of problems including loosening components, component alignment issues, infections, bone fractures, hip dislocations, chronic pain and sensitivity to the metal in the implant, which led to a higher level of metal levels in some patients, resulting in a series of serious problems including necrosis, nerve and tissue damage, swelling and muscle damage.
Unfortunately for DePuy, and patients, even if the hip replacement system was removed, there was a possibility that metal fragments could be left behind, causing a wide range of problems including toxicity and potential death.
Before the recall, DePuy Orthopaedics announced that they would be ending production of the ASR hip implant due to declining sales, but neglected to mention in that announcement the high failure rate that was first revealed in an Australian registry tracking successes and failures.
Most Popular DePuy Hip Lawsuits and Settlements
The first of a series of lawsuits in the United States against DePuy was filed on June 15, 2010, two months before the recall.
That same year, thousands of other suits were transferred to an Ohio court as part of a class action suit, which began the process of discovery from Johnson and Johnson as well as DePuy. As a result, both companies revealed what they knew about the defective hip replacement systems, and their failure to recall the systems sooner.
A 2011 Australian class action suit claimed that the problem with the DePuy product was a defective designed, and claimed that DePuy knew there were problems with the system but failed act on those concerns.
In 2013, a jury in California awarded a $8.3 million settlement to one plaintiff who was given a defective DePuy ARS XL system.
As of September of 2018, 20,000 lawsuits – with 11,000 more suits pending – have been filed and won, with settlements reaching as high as $6.2 billion, although some of those jury rewards have been reduced by higher courts.
Why Were DePuy Hip Replacement Systems Recalled?
The recall was the result of a poorly designed product that presented dangers to patients who had the systems used to replace their damaged hip joints.
Most of those who had the product surgically implanted had to undergo revision surgery within a few years. In general, hip replacements are designed to last more than 20 years. (Ref. 3)
What Should I Do If I Had a DePuy Hip Replacement?
IF you had a hip replacement surgery – either a total hip replacement, which replaces the ball and socket of the hip joint with artificial products, a partial hip replacement, which replaces either the ball or the socket, or a hip resurfacs, which replaces the head of the femur bone, fitting the resurfaced bone into the existing socket with an artificial liner – check your medical records thoroughly to determine what product was used as part of your replacement surgery.
If a DePuy ARS XL product was used it is important to contact an experienced attorney to help you determine the next steps you should take to prevent damage that could result in permanent disabilities.
Symptoms of a DePuy hip replacement failure
If your DePuy hip replacement is failing, you will likely experience at least one of the following symptoms, including:
Chronic pain at the replacement site
Noise from the metal-on-metal joint, including grinding, squeaking or clicking
Swelling at the site
Inflammation
Dislocation of the hip replacement
Loosening of the hip joint
Complete device failure (which can include pain, limited mobility, inflammation, dislocation, swelling and noise)
Limited mobility
Metallosis (hip replacement metal poisoning, which can include rash, neurological problems, psychological changes, thyroid issues, fatigue and cardiomyopathy. (Ref. 4)
How Does the DePuy Reimbursement Program Work?
While there is a statute of limitations in place for those who have had revision surgery to replace a defective DePuy ARS XL hip replacement system, DePuy has established a fund to cover the costs of tests and treatment for those whose hip replacement systems have been involved in the recall, especially those who have been forced to have addition surgery to repair damages caused by the recalled devise. DePuy will not only pay treatment costs, but also out-of-pocket expenses, lost wages and travel costs, according to the company website. (Ref. 5)
Should I hire a lawyer?
If you have suffered injuries from a DePuy hip replacement failure, you may be entitled to damages. Attorney David Schwaner has handled multiple personal injury cases, and his experience will help guide you through the complex process of a medical device lawsuit. If you have been injured by your DePuy ARS XL system, and had to have a follow-up surgery or are suffering from chronic pain or other systems, please call our offices at 312-635-4000 and contact us for a free consultation. We are happy to discuss your legal options and answer any questions you might have about your case.
REFERENCES:
"
David Delivered More than Expected for Me in Every Way
"
5 stars
"Working with David was a pleasure. From the first time I spoke to himI felt at ease with him as he seemed more concerned with my well-being before all. He was always keeping me updated on everything every step through the process and was always available for me if I had a question. David delivered more than expected for me in every way and I would recommend him to anyone. A real class act with your best interest at heart!"
Frank T.
https://schwanerinjury.com/wp-content/uploads/2018/12/Hip-Replacement-Lawsuits-and-Settlements-1.jpg
463
740
Julie Dunn
https://schwanerinjury.com/wp-content/uploads/2016/04/Logo-837x321.png
Julie Dunn
2018-12-31 23:48:02
2018-12-31 23:48:12
DePuy ASR Hip Replacement Surgery Lawsuit and Settlement Guide