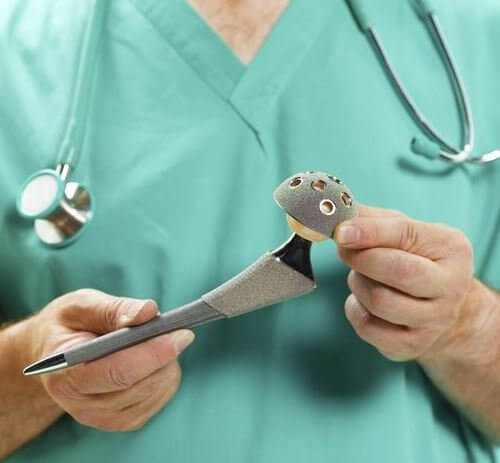 Hip replacement implants are meant to help patients reduce pain and regain full mobility. So, what happens what hip replacements fail? And, what happens when failed hip replacement surgery leads to bigger problems? In some cases, failed hip replacement surgery is a result of healthcare provider medical malpractice or manufacturer negligence. If this is the case in your failed hip replacement, you may be entitled to monetary compensation.
Let's take a closer look at the most common causes of failed hip replacement surgery, how it can impact the patient, previous lawsuit settlements, and how you can ensure you get the compensation you deserve if you are victim of a failed hip replacement.
Common Injuries from Failed Hip Replacement Surgery
Any surgery comes with the risk of complication. Hip replacement surgery is no different. Complications can be caused for a number of reasons. And, it is not uncommon that hip replacement surgeries fail because of doctor error or manufacturer negligence. Complications of hip replacement surgeries can be the result of the surgery itself or caused by a faulty implant.
The most common complications that occur after hip surgery are:
Instability in the hip joint
Fracture or other injury to the hip
Damage or deterioration of the artificial joint
Loosening of the joint
Infection at the joint site or surgical incision
If you have had a hip replacement surgery, the most common symptoms of failure are:
Pain when walking or moving joint
Swelling in or around the hip
Swelling in the groin on the affected side
Lumps in or around the hip
The feeling that the joint has slipped, a sign of partial or complete dislocation
Strange noises when you move
In severe cases failed hip replacement surgery can lead to complete loss of mobility and even death.
The Anatomy of the Hip
The hip joint is a ball-and-socket joint. The actual hip forms where the thigh bone meets the three bones that make up the pelvis. The thighbone as a ball-shaped knob that fits in the socket in the hipbone. This is why the joint is considered a ball-and-socket joint.
Surrounding the bones is articular cartilage. The cartilage makes it easier to move the bones and reduces the risk of pain with movement. Surrounding the hip joint are large ligaments, tendons, and muscles that hold it in place. All of these elements combine and allow the hip to bear the weight of our bodies. The hip joint is one of the largest joints in the body and the major weight-bearing joint we have. It has the ability to manage weight-bearing stress up to five times your body weight. When disease or injury cause changes in the hip, it can affect our ability to walk, stand, and even sit.
In addition to the tendons, muscles, ligaments, cartilage, and bones that make up the hip, blood vessels and nerves exist. The nerves deliver signals from the brain to our muscles telling the hip to move. The muscles respond to the brain letting us know if pain, pressure, or a change of temperature exist in the hip. This is how we feel the impact of injury.
Since the hip joint is mostly responsible for our mobility, any injury, trauma, or disease can significantly impact our ability to function independently. That's why many patients undergo hip replacement surgery. When hip replacement surgery fails, its impact is even more complicated. That's because it could leave to irreversible damage that permanently affects our ability to move. And, it may lead a patient to be in worse condition than they were before the surgery.
Hip Replacement Surgery Lawsuits in Chicago
When hip replacement surgery fails, revision surgery or further injury may occur. Hip revision surgery is a very invasive surgery. It also requires a lengthy recovery period. Because hip replacement surgery involves breaking or dislocating previous hip implant devices, patients face elevated health risks undergoing this surgery. That's why most patients file lawsuits when a hip implant fails. These lawsuits cover medical expenses, lost wages, loss of consortium, caregiver expenses, and pain and suffering.
The most common failed hip replacement surgery lawsuits involve manufacturers of the hip implants. When devices fail, or cause new health problems for patients, the manufacturer of these implants may be responsible. The U.S. Food and Drug Administrations sets strict regulations to ensure the safety of patients using these devices. But, in some cases, manufacturers don't follow the precautions set in place. This poses a risk to patients.
When a large number of injuries or health issues are reported to the FDA by the same implant, a recall may be announced. Hip implant recalls almost always lead to class-action lawsuits.
While the list of hip replacement devices that have been reported to cause health problems is long, not all devices get to the point that they are recalled. Some examples of hip replacement devices that have been reported to cause health issues are:
Biomet M2a Magnum Hip Implants
DePuy ASR XL Acetabular System
DePuy ASR Hip Resurfacing System
DePuy Pinnacle Hip Replacement System
Zimmer Durom Cup Hip Devices
Wright CONSERVE Plus Hip Devices
Wright PROFEMURE Z Stem
Smith & Nephew R3Acetabular System
Stryker Rejuvenate Hip System
Stryker ABG II Modular Neck Hip Stems
Class action lawsuit settlements range. The amount awarded depends on the number of patients who come forward and whether or not a class-action or single lawsuit is involved. Some examples include:
DePuy hip replacement lawsuits- There are currently more than 7,000 DePuy ASR hip replacement lawsuits in federal courts. This device has been recalled. In 2012, DePuy hip replacement lawsuits in state courts awarded each victim approximately $200,000 in compensation. Additionally, Johnson & Johnson has set aside $2B to settle the outstanding lawsuits.
In 2012, Biomet paid $22.9M in claim settlements to patients who used their faulty M2a Magnum hip replacement device between 2000 and 2008.
The case of Smith & Nephew R3 Acetabular hip device was a complicated one. The device was recalled in 2012. After the recall, it was noticed that the device was used in a record number of replacement surgeries, and had a larger rate of revision surgery requirements. After 18 months of closely monitoring the device company, they were found guilty of financially bribing surgeons to use their hip replacement devices. The company has already spent $28.9M in lawsuit settlements
Most Common Causes of Failed Hip Replacement Surgery
While there are several natural causes of failed hip replacement surgery, the most common cause if faulty devices. Additionally, if an implant is not properly aligned during surgery, it can lead to surgical failure. While a medical malpractice lawsuit can be filed when failed hip replacement surgery is a result of medical provider negligence, the most common lawsuits are those against implant device manufacturers.
Implant devices can fail for a number of reasons. Hip replacements can fail because of:
Loosening
Debris from friction that causes inflammation
Dislocation
The use of metal-on-metal implants
Manufacturer defect
Should I Hire a Personal Injury Attorney in Illinois?
If you or someone you love had a failed hip replacement surgery, you should speak with a personal injury attorney. When you hire an attorney with experience, you will get the compensation you deserve. There may already be a class-action lawsuit involving the medical device you've used. Your attorney will have knowledge of what lawsuits are pending, and what lawsuits have already been settled. They will be able to get you the answers you need fast.
Personal injury law is a specialized type of law. Legal matters that involved medical issues are complicated. That's why it's important you hire an attorney who knows the procedure of the law and can guide you in the right direction. If someone else is liable for your failed hip replacement surgery, you deserve to be compensated for your injuries.
It's important to hire a personal injury attorney because they know the law and will be able to easily gather the information you need to start your lawsuit. When you hire the right personal injury attorney in Chicago, you will be awarded the compensation you deserve so you can focus on the recovery process.
"
David Delivered More than Expected for Me in Every Way
"
5 stars
"Working with David was a pleasure. From the first time I spoke to himI felt at ease with him as he seemed more concerned with my well-being before all. He was always keeping me updated on everything every step through the process and was always available for me if I had a question. David delivered more than expected for me in every way and I would recommend him to anyone. A real class act with your best interest at heart!"
Frank T.
https://schwanerinjury.com/wp-content/uploads/2018/12/Hip-Replacement-Lawsuits-and-Settlements-1.jpg
463
740
Julie Dunn
https://schwanerinjury.com/wp-content/uploads/2016/04/Logo-837x321.png
Julie Dunn
2018-12-18 14:29:10
2018-12-18 14:31:17
Hip Replacement Lawsuits and Settlements