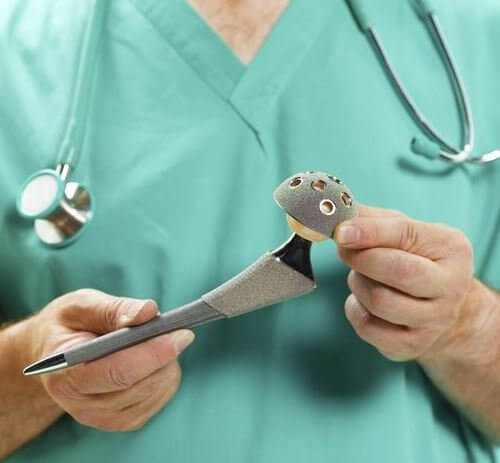 Years after multiple lawsuits were filed due to injuries caused by unexpected hip replacement fractures that led to broken bones and more serious injuries, the Food and Drug Administration in 2015 filed a recall of a Profemur hip replacement system from MicroPort Orthopedics.
The system featured metal-on-metal components designed to move in the same way a natural hip ball and socket would move when the user walks, but instead caused the metal pieces to rub together, leading to breakage. The Wright Medical Profemur stem is different from a standard hip replacement because it includes a modular neck that connects the hip ball with the stem of the device, which is implanted into the patient's femur and allows for adjustments based on a patient's height. Unfortunately, the devices were prone to sudden fractures at the module neck, which resulted in a Class 1 recall.
A Class 1 recall is the most serious type of FDA-issued recall, one associated with the potential risk of serious injury or death.
The Profemur stems, manufactured by Wright Medical Group, Inc., were used as part of modular-neck hip implants, to stand in for damaged portions of the hip joint. The recalled components were prone to a variety of different faults including corrosion, fretting and the accumulation of metal debris in the body.
Originally designed by a European company that released the device in the 1980s, that company was purchased by the American company Wright in the late 1990s, which then gained clearance by the FDA to market the device. Wright Medical Group's OrthoRecon division was purchased by the Chinese company MicroPort Orthopedics in 2013, two years before the hip replacement parts were ultimately recalled.
The problems occurred when the hip replacements broke, causing broken bones and the need for revision surgeries. Potential problems included neurovascular damage, hematoma, hemorrhage or death, according to the FDA.
More than 10,000 devices manufactured between 2009 and 2015 and distributed between 2009 and 2015 were affected by the recall.
Why Were Profemur Hips Recalled?
The Profemur hip components were recalled after what appeared to be sudden fractures were revealed to be damage to the component occurring over a long period of time, experts say, suggesting that the problem is a fatigue fracture occurring after long-term use led to metal erosion that eventually caused the stem to break away from the rest of the device.
According to the FDA, there is no way to determine whether or not a Profemur hip device will break, no matter a patient's history or exams including X-rays, MRIs or CT scans.
According to the Australian Orthopaedic Association, Wright Profemur stems had an 11.2 percent failure rate at three years following surgery, which means that more than one in nine people who received the Wright stems experienced serious problems with the device within three years of surgery.
Profemur Lawsuits
The first of more than 1,200 lawsuits involving Profemur defects resulted in more than a $1 million recovery.
The lawsuit was tried in 2015 in Los Angeles Superior Court.
Profemur Settlements
Two years before the FDA recalled the Profemur modular stem, several lawsuits were settled prior to trial due to problems associated with the stem, which in several cases unexpectedly broke, causing injury to those whose hip replacements had included the Profemur stem.
In one 2012 product liability suit, a man had to undergo two revision surgeries in order to repair the damage he sustained when his Profemur modular stem broke while he was walking at work.
A similar case was settled a few months before, after a judge rejected an attempt by Wright to have the case dismissed.
Profemur Recall FAQ's
What are some of the most common problems associated with a Profemur hip replacement? According to experts, pain, problems associated with metal debris from the disintegration of the part, dislocation, breakage and the need for revision surgery.
Which Profemur parts were part of the recall? The Profemur Long Cobalt Chrome 8 Degree Varus/Valgus Modular Neck was recalled as part of a class 1 FDA action.
Which Profemur parts caused medical problems but were not recalled? The Profemur Z hip stem resulted in numerous medical problems. The Profemur Z was designed to be used in a minimally invasive procedure that instead resulted in a nightmare for many people whose surgeries included the defective part, which snapped in at least 28 cases. The Profemur Lineage, Dynasty and Conserve products also received complaints.
What type of defective product lawsuit would the Profemur products fall under? Profemur hip surgery products would fall under the category of design defects, because even if the products don't fail, they contain components that could endanger users.
Profemur Symptoms, Side Effects and Complications
According to the FDA, symptoms of a modular neck fracture include:
Sudden, severe pain in the hip
Instability of the hip
Difficulty walking or the inability to walk
A sudden fall
A tingling sensation in the leg
Loss of feeling in the leg.
Side effects and complications include:
Infection
Tissue damage
Tissue death
Loss of bone
The need for revision surgery.
Should I Hire an Attorney for Profemur Reimbursement?
If you had a hip replacement that included Profemur MicroPort Orthopedics, Inc. parts – formerly Wright Medical, Inc. – you should consult an experienced attorney to help you determine what steps to take to address the recalled product in order to prevent breakage that could result in permanent disabilities.
If you were injured as a result of your Profemur hip replacement, you could be entitled to damages, and while injuries may not result in a $1 million settlement, injuries could led to compensation for medical bills, pain and suffering, emotional distress, lost wages, permanent disability and loss of quality of life.
Attorney David Schwaner is an expert in handling personal injury cases, and his experience will be a necessary asset in handling the complexities of a medical device lawsuit.
If you have been injured due to a Profemur device or had a Profemur device that was recalled implanted as part of a hip replacement, please call our offices at 312-635-4000 and contact us for a free consultation. We are happy to discuss your legal options and answer any questions you might have about your case.
"
David Delivered More than Expected for Me in Every Way!
"
5 stars
"Working with David was a pleasure. From the first time I spoke to himI felt at ease with him as he seemed more concerned with my well-being before all. He was always keeping me updated on everything every step through the process and was always available for me if I had a question. David delivered more than expected for me in every way and I would recommend him to anyone. A real class act with your best interest at heart!"
Frank T.
https://schwanerinjury.com/wp-content/uploads/2018/12/Hip-Replacement-Lawsuits-and-Settlements-1.jpg
463
740
Julie Dunn
https://schwanerinjury.com/wp-content/uploads/2016/04/Logo-837x321.png
Julie Dunn
2019-01-09 23:21:54
2019-01-09 23:21:54
Profemur Hip Replacement Stem Recalled After Lawsuits