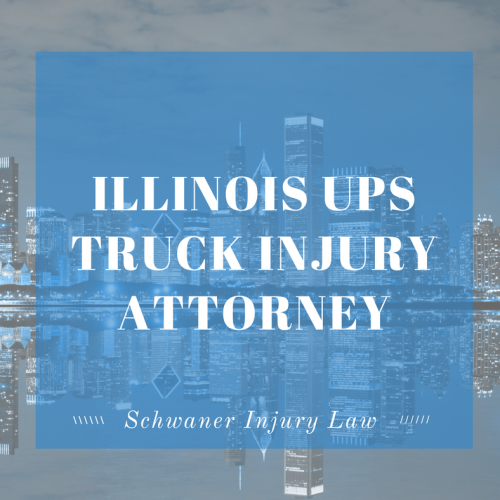 Illinois UPS Truck Injury Attorney proudly serving truck injury victims in Chicago & Illinois. In 2014, on the day before Christmas Eve, a UPS struck a female pedestrian in Evanston, Illinois, trapping her beneath the truck and leaving her seriously injured.
The driver said he didn't realize he had hit the woman until he heard her screams.
According to company officials, the driver was removed from the road pending an investigation.
But that is certainly not the only accident UPS drivers had that year.
A need for speed likely played a role in many of those accidents.
Christmas Rush Is Real for UPS Drivers, and This Can Lead to Serious Injury
According to the Wall Street Journal last year, both UPS and its competitor, FedEx, had a tough time keeping up with holiday deliveries.
UPS handles millions of packages a day during busy times such as the holiday season, so it is not a real surprise that the driver missed the pedestrian. He or she may have been so rushed to meet delivery deadlines that they were driving on little or no sleep, a big risk factor for accidents associated with delivery vehicles.
According to a 2014 piece by National Public Radio, UPS drivers are both tracked and timed, so spending too much time at a stop – helping an elderly person with a heavy package, perhaps – would put that driver behind, forcing them to make up the lost minutes in some way.
"You're trained to have a sense of urgency," according to Wendy Widmann, a 14-year veteran with UPS.
That's because for UPS, time truly is money. That's what Jack Levis, UPS' director of process management, told NPR.
"One minute per driver per day over the course of a year adds up to $14.5 million," he said. And don't get him started on the lost fuel associated with an idling vehicle.
So, what does all the hustle and bustle of UPS mean for passenger vehicles?
UPS Accident Crash & Injury Facts
UPS is governed by the regulations of the Federal Motor Carrier Safety Administration, which include limits on the hours spent behind the wheel each day.
But that rush to get from stop to stop – drivers are taught in special classes how to start their truck and buckle their seat belt at the same time in order to save precious minutes – can often lead to overlooking the rules in favor of getting the packages to their destinations on time.
In the past two years, UPS drivers have been involved in 2,0003 crashes, more than a quarter of them involving injuries, including 49 deaths.
Crashes, injuries and fatalities have increased at least by 25 percent since 2012, making UPS trucks more dangerous than ever, although the company claims that all that tracking – including whether or not a UPS truck is going in reverse, a practice that is discouraged due to blind spots, which escalate the chances of hitting something – makes drivers safer on the road.
Most Common Causes of UPS Accidents
Georgia-based UPS is the largest shipping and logistics company in the world, and ships more than 15 million packages per day.
The company delivers 19.1 million packages and documents a day globally, so there are plenty of opportunities for an accident.
Some common causes include:
Speeding or other unsafe driving maneuvers. UPS drivers are tracked by the minute, and drivers have tight schedules. Because the company expects packages to be delivered on time – and is making sure employees don't waste a minute on anything unnecessary via technology – drivers likely feel rushed, making them more inclined to travel at an unsafe speed or swerve around slower traffic.
Logging too many hours. When customers are expecting packages, UPS drivers are expected to deliver, no matter the potential delays on the road. Spending too many hours behind the wheel can make drivers slower to respond to road hazards, putting them more at risk of an accident. Truck driver fatigue is often a common cause of truck accident injury.
Poor road and weather conditions. Delivery drivers in Illinois often have to run their routes, even in inclement weather. It a driver loses control, accidents can happen in an instant, and if speed is a factor, injuries can be even more likely.
Why Do I Want an Attorney Experienced with UPS?
When you get into a car accident with another passenger vehicle, the case usually comes down to two different insurance companies and attorneys duking it out, with the winner being the one who was not held liable for the accident.
UPS, on the other hand, approaches litigation with a team of experienced lawyers who are ready to defend their drivers in a courtroom.
Because the company is so large, going up against UPS will be tough without a lawyer with experience in handling commercial vehicle accidents, because they will be knowledgeable about the rules and regulations of the road. They will also know that UPS tracks its drivers and will have detailed, precise records of every move their driver made on the day of the accident, information they can subpoena and use on your behalf in order to help you prevail in court.
Were you injured by a UPS truck accident in Illinois? Our Chicago based firm is ready to help you get the settlement you deserve. Get in touch with our team today. All consultations are completely free.
https://schwanerinjury.com/wp-content/uploads/2017/12/Illinois-UPS-Truck-Injury-Attorney.png
788
940
admin
https://schwanerinjury.com/wp-content/uploads/2016/04/Logo-837x321.png
admin
2017-12-21 14:14:27
2017-12-29 15:48:37
Illinois UPS Truck Injury Attorney Settlement Guide