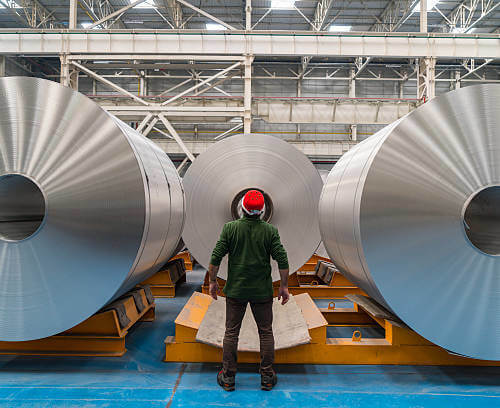 The sheet metal industry is a multi-billion-dollar industry with a multitude of workers. As you can imagine, working with large slabs of metal and big machinery can be dangerous. There are many risks involved with the job and injury is not uncommon. So, what happens when you sustain an injury at work? Let's take a closer look at the most common injuries sheet metal workers face and what type of compensation you are entitled to if you sustain an injury on the job.
What Are the Dangers of Being a Sheet Metal Worker?
There are several dangers involved with being a sheet metal worker. In addition to dealing with large machinery, the materials you work with themselves carry a significant risk of injury on the job. The material is extremely sharp around the edges, especially when you are handling a newly cut sheet. Other dangers of the job include:
Hand cutting hazards- When using hand metal snips or shears, employees face a high risk of injury. The tools are not the only dangerous part of the job, the sharp edges of both pieces that come out to be the end product are dangerous as well.
Vulnerability of the eyes- Another risk involves sharp pieces that are sent through the air and can cause damage to your eyes. When you use a power machine to cut sheets, you run the risk of sending small fragments of metal through the air and into your eyes. Although protective glasses or goggles are often provided by employers, many employees fail to wear them when using cutting machines.
Clothing risks- When employees wear loose fitting clothes, they run the risk of getting their garments stuck or caught in the heavy machinery they use. This can be particularly dangerous. If your clothes get caught in the machines, or if the corners or sides of the sharp-edged materials get caught on your clothing, you can face serious injury.
Debris and dust- One of the major concerns of power cutting is the debris or dust that gets send into the air. Sheet metal workers should wear respirator masks and eye protection to avoid injury.
Heavy sheets- When using heavy sheets, workers can accidentally drop products. The weight of these pieces can lead to back injuries or other injuries if the product is dropped on the employee.
Risk of moving products- When sheet metal needs to be used in residential or commercial installation, placing or positioning the sheet metal can be difficult. The challenges of getting these sheets into the right location can lead to injury.
What Types of Injuries Do Sheet Metal Workers Get?
The most common type of injuries for sheet metal workers include:
Material handling injuries
Cuts and abrasions
Eye injuries
Respiratory injuries
Repetitive strain injuries
Burns
Equipment injuries
Conveyor belt injuries
Poor machine guarding injuries
Power tool injuries
Material handling injuries can range significantly. Cuts and abrasions make up the majority of sheet metal injuries. They generally come from contact between the sheet metal and bare skin. Sharp materials, tools, and metal edges can easily slice up a worker's flesh. Eye injuries occur almost every day in the sheet metal industry. Flying metal fragments, projectiles, dusts, and other contact between the eye and sheet metal material can lead to serious injury of the eye. Other injuries include chemical splashes or objects that fall or hit the eye.
Repetitive strain injuries are common and they develop overtime. They are caused by the constant wear and tear on the joints as workers repeat the same motions over and over to lift and move. Examples of these include:
Carpal tunnel syndrome
Tendinitis
Bursitis
Rotator cuff syndrome
Other strains and sprains
Burns come from exposure to hot metal when workers are dealing with machine parts, equipment, the sheet metal itself, and other metalwork pieces. The contact between the sheet metal and big machines often causes material to get hot because sheet metal is highly conductive. Other common injuries are a result of workers getting caught or entangled in equipment or conveyor belts, injury from poor machine guarding, and injuries from the impact or misuse of power tools.
Sheet Metal Workers Compensation Claims
When sheet metal workers are injured in Illinois, they may be entitled to worker's compensation benefits. Almost all workplace injuries and illnesses are covered by the Illinois Workers Compensation Act. This means that the law demands employers to pay benefits to employees if they had an injury at work. Since all employers are required to have worker's compensation insurance, sheet metal workers in Chicago can place a worker's compensation claim.
Worker's compensation in Chicago covers a variety of costs including:
Lost wages
Medical bills
Partial disability benefits
Total disability benefits
Wrongful death benefits
Education and retraining costs
Permanent disfigurement or scarring benefits
When a sheet metal worker injury results in loss of work, medical costs, or even permanent disability, it's important you file a worker's compensation claim to be awarded the benefits you deserve.
Hiring a Worker's Compensation Attorney in Chicago
If you or your family member has had a sheet metal injury at work, you may be entitled to worker's compensation benefits. It's important to talk to an Illinois worker's compensation attorney to be sure you get the benefits you deserve. Although the Illinois Workers' Compensation Commission protects most employees who experience sheet metal injury at work, it's important to hire a Chicago worker's compensation attorney.
When you hire an attorney, they will gather all the information you need to get the most out of your case. Your attorney will help find the right evidence for your case, deal with insurance companies, and do the investigation needed to get the right facts for your claim. Since finding the right benefit amount for your claim can be difficult, hiring an attorney can be the solution you need to get the benefits you deserve.
"
David Delivered More than Expected for Me in Every
"
5 stars
" Working with David was a pleasure. From the first time I spoke to himI felt at ease with him as he seemed more concerned with my well-being before all. He was always keeping me updated on everything every step through the process and was always available for me if I had a question. David delivered more than expected for me in every way and I would recommend him to anyone. A real class act with your best interest at heart!
"
Frank T.
https://schwanerinjury.com/wp-content/uploads/2018/10/Sheet-Metal-Worker-Injury-Lawsuit-Guide.jpg
408
612
Julie Dunn
https://schwanerinjury.com/wp-content/uploads/2016/04/Logo-837x321.png
Julie Dunn
2018-10-30 08:00:33
2018-10-29 23:20:58
Sheet Metal Worker Injury Lawsuit Guide