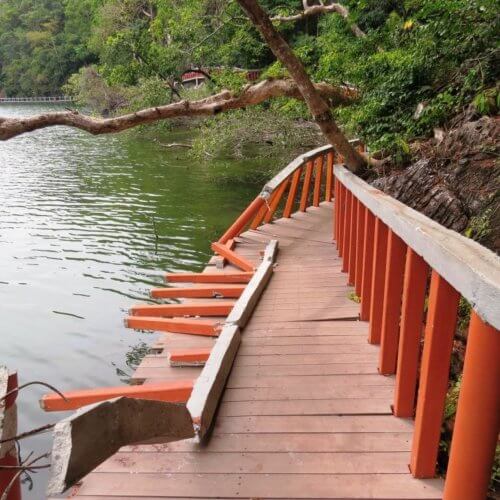 Railings are a means of protection or assistance for those using them. Just think about the different types of railings you see every day. Railings on stairs help you climb or descend the stairs without injury.
Railings on decks or patios protect you from falling if you get too close to the edge. So, what happens when you rely on the strength of a railing to protect you and it causes you injury instead?
If you are victim of an injury that results from a railing malfunction or defect, you are entitled to compensation at the expense of whoever was in charge of keeping that area safe. Let's take a closer look.
How Can a Railing Cause Injury?
Falls that result from a faulty railing can lead to serious injury. Without proper maintenance, construction, or inspection, railings can cause injury rather than be there to support you.
If a railing is defective, rotted, or poorly built, it can buckle or collapse, causing you to fall.
These types of falls can lead to serious injury because you don't see them coming and they can happen at enormous heights. In some cases, these injuries can lead to death.
If you or someone you know is hurt as the result of a railing falling or breaking, you can collect compensation as a result of your injury. Railing collapses can happen at any moment.
But, a railing may be more likely to collapse if it is frequently used without being checked or after certain weather-related damage. For example, railings that are exposed to wet, icy conditions can become decayed and weakened.
What Injuries Can Occur from Railings?
Serious or even fatal injuries can occur when someone falls because a railing gives out. The higher the position, the more likely the injury is to be serious or even fatal.
The most common injuries that occur from railing collapses are:
Ankle injuries- Broken, fractured, and sprained ankles can be a result of a fall when a railing collapses. Even if a person lands on their feet, they may experience an ankle injury if they have to jump from a high place when the collapse occurs. Since the ankle bones are not well shielded, they are also prone to injury if a person comes into contact with heavy chunks of wood or debris when a structure breaks.
Bone injuries- Broken or fractured bones are a common injury when someone falls. Fractures can be a result of impact or the body being pulled, pushed, or twisted in a way that is not natural. Bone fractures can also lead to soft tissue injuries, tears, strains, sprains, or torn ligaments.
Crush injuries- When the body becomes trapped or crushed by heavy weight when a railing collapsed, patients can experience crush injuries. When debris or rubble lands on someone who falls, crush injuries can lead to simple bruises or serious internal injuries.
Cuts and lacerations- When a victim falls because of a broken railing, cuts and lacerations are very common. Puncture wounds, deep cuts, and gashes can be serious, some even leading to nerve and organ damage. Even minor cuts can get infected.
Traumatic Brain Injury- A traumatic brain injury is always a potential complication of a fall. This can include concussion. When a victim's head strikes the ground, or is hit by a falling object, traumatic brain injury can result. This can be extremely serious, even leading to brain damage and death.
What Causes Railing Collapse?
The most common cause of collapse with railings is poor construction or damage or rot. Porches, decks, balconies, and railings should be checked regularly for dry rot. You should keep your eyes on these types of construction to be sure they are built correctly and have not sustained any dangerous damage. Building negligence often leads to these collapses.
It is the business or home owners' responsibility to ensure their structures are safe.
If a railing collapse leads to injury, you are likely entitled to compensation at the owner's expense. Whether the collapse is caused by improper construction or wear and tear over time, the owner is responsible for any malfunction of their property that leads to injury.
Home owner or business owner negligence is any failure to take normal care of use common sense with the maintenance and condition of a building or property.
Legal Rights for Those Injured by Railing Collapse
There are several injuries that may result from railing collapse accidents. If you or your family member sustained an injury due to a railing collapse in Illinois, talk to a personal injury attorney as soon as possible.
Depending on the reason the railing collapsed, and the injuries you sustained as a result, you may be able to sue the property owner, construction builder, or other party that is responsible for the malfunction.
A Chicago personal injury attorney can help you gather the information you need to file a successful lawsuit. They will help determine the maximum benefit you deserve and fight to make sure you are awarded that benefit. Many cases across the United States have found favorable results for victims of railing collapse injuries at the expense of the property owner, building company, homeowners association, property manager, or other defendant.
Since you are entitled to compensation for medical bills, lost wages, pain and suffering, and other damages sustained, it's important you follow through the get the benefits you deserve.
If you or a loved one has sustained an injury from a railing collapse, talk to a qualified Chicago personal injury attorney to go over your rights and get you the compensation you deserve for your injury.
"
David Delivered More than Expected for Me in Every Way
"
5 stars
"Working with David was a pleasure. From the first time I spoke to himI felt at ease with him as he seemed more concerned with my well-being before all. He was always keeping me updated on everything every step through the process and was always available for me if I had a question. David delivered more than expected for me in every way and I would recommend him to anyone. A real class act with your best interest at heart!"
Frank T.
https://schwanerinjury.com/wp-content/uploads/2018/10/Railing-Collapse-Injury-Attorney.jpg
768
768
Julie Dunn
https://schwanerinjury.com/wp-content/uploads/2016/04/Logo-837x321.png
Julie Dunn
2018-10-26 13:00:01
2018-10-24 23:13:04
Railing Collapse Injury Attorney