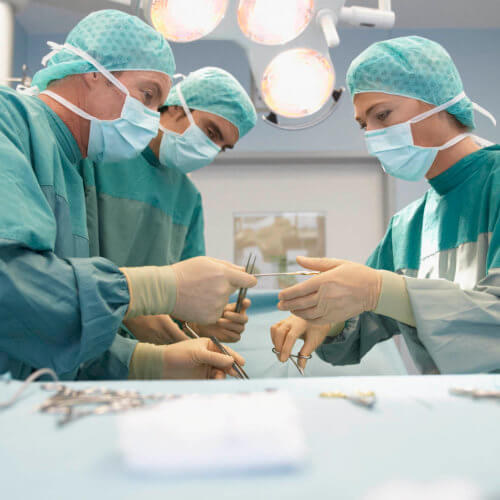 Did someone you know suffer serious injury or death from improper post-surgery treatment? Any patient that undergoes a surgical procedure understands that risks are involved and sign papers attesting as such, but in many cases, complications are the result of negligence on the part of the physician or medical staff, and that should not excuse them from being held responsible for those complications.
In one case, a 38-year-old man died in a Wisconsin hospital after a kidney-pancreas transplant, a risky surgery that he was recovering from nicely, when he was suddenly overcome with sepsis because a sponge had been left in his body cavity during the surgery. By the time the error was realized, there was nothing anyone could do to save his life.
According to statistics, this is nothing rare. Classified as a "never event" because there are steps in place to count surgical instruments and sponges following a surgical procedure so these incidents don't happen, 39 times a week in the United States foreign objects including sponges, towels or other medical supplies are left inside a patient after surgery, which can often lead to death.
In an Illinois wrongful death suit, the estate of a 45-year-old man won a significant lawsuit of nearly $4 million after he died following a surgery to remove a benign tumor from his heart. While the procedure went as planned, afterwards, he experienced cardiac abnormalities that medical staff wrongly believed were shock, and subsequently failed to treat his symptoms properly.
One of the most familiar cases involved the late Jai McMath, who went into cardiac arrest following a routine tonsillectomy, the third most common surgery performed on children in the United States, according to the American Academy of Otolaryngology. 1
McMath was pronounced brain dead following the surgical complication, but her family fought the decision and kept her on life support until June 22, 2018, when she died of extensive bleeding caused by liver failure.
What Can Go Wrong After Surgery That Leads to a Lawsuit?
While the McMath case was extreme, there are many different complications that can occur after surgery that require immediate medical attention.
According to the American Medical Association, age, health, medical history, disease, the type of surgery performed all play a role in post-surgery risk factors, although medical error could be more dangerous.
Some common postoperative complications, according to Stanford Health Care, may include:
Infection. According to Consumer Reports, our nation's hospitals are "breeding grounds" for dangerous, sometimes deadly infections. More than half a million people each year develop an infection during a hospital stay, according to the Centers for Disease Control and Prevention, and about 75,000 of them die. Most infections are encountered through surgical sites, but others can be the result of bacteria on equipment. Even more serious, most of those infections are becoming more resistant to antibiotics, making them tougher to kill.
Hospitals, Dr. Tom Frieden, director of the CDC, told Consumer Reports that hospitals can be "hot spots" for infections to spread rapidly, not only because infections can spread to vulnerable patients, but also due to shared equipment. For someone weakened by surgery, infection can be deadly. 2
Shock. When blood pressure drops, blood flow throughout the body slows, leading to shock. And shock is not uncommon. According to a 2010 study from the Journal of the American Medical Association that appeared in the Archives of Surgery, shock and septic shock are more common than heart attacks and pulmonary blood clots as post-surgery complications. Septic shock, the authors of the study said, kills 10 times more often than heart attack, making it important for medical professionals to be as vigilant when identifying septic shock than heart attacks or blood clots. 3
Hemorrhage. Hemorrhage is most often caused by blood loss from the surgical site or potentially from injuries that occur during surgery, such as a perforation of an organ, or as believed in the case of Jai McMath, a nick to an artery.
Deep vein thrombosis. Blood clots are a risk factor following surgery, especially if patients are unable to get out of bed in order to move. Large blot clots can potentially break free and clog an artery leading to the heart, potentially causing heart failure. Blood thinners, surgery and other medications may be used to treat blood clots if they do not lead to death.
Spinal injuries and other surgical injuries. Of all spinal injuries, 5 percent are the result of medical or surgical complications. Other surgical errors can lead to brain damage, nerve damage, paralysis, permanent disability or wrongful death.
Internal organ damage. A small slip of a scalpel or other surgical instrument can perforate a nearby organ, causing lasting or fatal health complications, especially if the error isn't noticed during the surgery.
Nerve damage. Nerve damage is also a common complication following surgery, but it can have lifelong implications, since a damaged nerve can cause severe, chronic pain. Nerve damage can also lead to the loss of movement or numbness in the affected area.
Lung problems. Pulmonary complications can be caused by a lack of deep breathing within two days of surgery, a problem that can result in potentially deadly conditions including pneumonia, inhaling food or water, as well as chest pain, fever or cough. 4
Anesthesia reactions. Allergies to anesthesia can cause brain damage or death if it is administered incorrectly.
Unfortuantely, when not properly managed and accounted for, these common post surgery complications can lead to injury or death.
Medical Malpractice and Postoperative Complications
When doctors or other medical personnel make errors either during or after surgery, patients are at risk of complications or wrongful death.
If you or a loved one has experienced complications during recovery from surgery, please contact our offices today.
A successful post-surgery medical malpractice case can help pay for past medical bills, future medical care, and pain and suffering.
We will help determine if you have a case, and will help you gather expert witnesses, medical records and other information that will help you win your case.
You or your loved ones may be entitled to receive compensation for the post-surgical error in treatment.
REFERENCES:
Wilson, Jacqui, "When Routine Surgeries Go Wrong," CNN, Dec. 19, 2013.
"How Your Hospital Can Make You Sick," Consumer Reports, July 29, 2015.
"Study examines sepsis and septic shock after surgery," JAMA and Archives Journals, July 19, 2010
"
He is one of the best out here!
"
5 stars
"I was recommended to Schwaner Injury Law by another yelper. I Visited this office recently, located in the garner building. They are time efficient people here, things are organized and done when they give you their word to be. After my meeting I must say that the staff is very helpful and David is extremely supportive of his clients. He was ready to answer all questions and commit to necessary steps to help solve the situation immediately. He is one of the best out here!"
Helen W.
https://schwanerinjury.com/wp-content/uploads/2018/07/post-surgery-injury-death-lawsuit.jpg
1045
1568
admin
https://schwanerinjury.com/wp-content/uploads/2016/04/Logo-837x321.png
admin
2018-07-23 13:59:08
2018-07-21 14:29:59
When Post-Surgery Recovery Results in Death or Serious Injury – Medical Professionals Fail to Treat