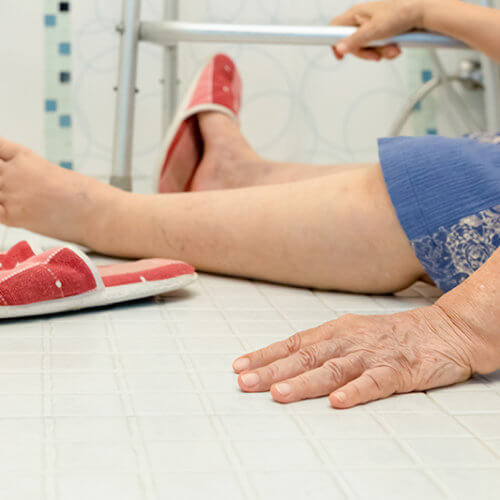 In-hospital falls can increase complications for patients who have undergone post-orthopedic surgery, even leading to fatalities in some cases.
When in-hospital falls occur immediately following orthopedic surgery, revision surgery may be required and patients can deal with major setbacks that leave them with a long-term problem to face.
If you have experienced a post-orthopedic surgery fall in the hospital, you may be entitled to compensation for your injuries. Let's take a further look at the subject.
What Happens When an Orthopedic Surgery Patient Falls After Surgery?
Orthopedic surgery focuses on injuries and disease that occur with your body's musculoskeletal system. Orthopedic surgery can include your bones, joints, ligaments, tendons, muscles, and nerves. It involves areas of the body that allow you to move, work, and be active.
There are several different surgeries an orthopedic surgeon may perform:
Arthroscopy to diagnose and treat problems inside a joint.
Fusions are a welding process that fuse the bones together with bone grafts and internal devices to heal a single bone.
Internal fixations hold broken pieces of a bone together with metal plates, pins, or screws until the bone heals.
Join replacement removes a damaged joint and replaces it with a prosthesis.
Osteotomy cuts and repositions the bone to correct bone deformity.
Soft tissue repair mends tendons or ligaments.
While orthopedic surgery is complicated, even the smallest surgical procedure can take a major turn is a person falls after this type of surgery.
Post-orthopedic surgery falls can result in wounds that are burst open, revision surgery, and serious wound infection.
Since most orthopedic patients carry some fall risk because of the temporary loss of mobility, it's important that hospitals and surgical centers take extra precautions to prevent falls in these patients.
Most Common Injuries that Result from Post-Orthopedic Surgery Falls
Falls among post-orthopedic surgery patients aren't uncommon. But, this doesn't mean the hospital or surgical center shouldn't take extra precaution to make sure you are safe while you recover. Prevention should be a high priority for doctors and facilities. Falls are most common when patients are using the bathroom or walking for the first time.
The most common injuries post-orthopedic surgery patients experience from a fall include:
Minor scrapes or bruises
Dislocations
Fractures
Intracranial bleeds
Hemorrhage
Transfer to higher level of care
Return to the operating room
In more serious cases, when falls lead to head or spinal injuries, brain damage or death can occur.
What Causes Post-Orthopedic Surgery Falls?
The main cause of post-orthopedic surgery falls is the fact that patients have limited or no mobility as a result of their injury or the surgery itself. As patients work to become more independent, they sometimes push themselves too hard and experience a major set back when they fall.
The most common causes of post-orthopedic surgery falls are:
Lack of assistance moving around the room
Lack of assistance using the bathroom
Lack of protective equipment
Zero fall intervention resources
Confusion
Medication use
In addition to these common causes, there are many other conditions that can leave patients at higher risk of falling, including:
Congestive heart failure
Clotting or bleeding disorders
Liver disease
Neurologic disease
Electrolyte or fluid abnormalities
Weight loss
Regardless of the reason for your fall after surgery, it is the hospital, medical provider, or caretaker's job to keep you safe after your surgery.
Patients should be given educational information about fall prevention before they go to surgery.
Additionally, your medical provider should put the proper orders in to be sure you are properly monitored and cared for so a fall doesn't occur.
Patients who are at greater risk of falling can be given hospital bracelets that identify them as a higher risk. This allows all staff on hand to keep a closer eye on your situation. And, if patients are heavily medicated, or appear confused, a bed alarm can be attached that will sound if you try to get up on your own. This alerts those on duty to get to your bedside ASAP to prevent a fall.
When it comes to post-orthopedic surgery falls, prevention is crucial and it is the responsibility of the medical provider or facility to be sure the right precautions have been used to keep you safe.
Legal Responsibility for Post-Orthopedic Surgery Falls
If you experienced a post-orthopedic surgery fall due to negligence, you are entitled to compensation for your injuries. Injuries sustained from a fall after surgery can result in crippling pain, limited range of motion, medication dependence, and even a need for assistive devices.
If you experience an injury due to a fall you had while in medical care, it's important that you follow through and get the benefits you are entitled.
Hundreds of patients who have been injured as a result of improper care after orthopedic surgery in Chicago, Illinois have been awarded compensation to offset the medical costs and loss of income due to these injuries.
But, it's important you contact a Chicago medical malpractice attorney to help you navigate this type of case.
Your attorney will determine whether or not you deserve compensation for your case. An Illinois personal injury attorney will investigate and evaluate They will arrange for experts to testify on your behalf. Your lawyer will also study your medical history, identify witnesses that can be helpful in your case, and determine the appropriate settlement you deserve.
If you have been injured as the result of a fall you sustained after orthopedic surgery, talk to a Chicago attorney as soon as possible to go over the details of your case and get you on the right track to receive the compensation you need so you can heal without stress.
"
David Delivered More than Expected for Me in Every Way
"
5 stars
"Working with David was a pleasure. From the first time I spoke to himI felt at ease with him as he seemed more concerned with my well-being before all. He was always keeping me updated on everything every step through the process and was always available for me if I had a question. David delivered more than expected for me in every way and I would recommend him to anyone. A real class act with your best interest at heart!"
Frank T.
https://schwanerinjury.com/wp-content/uploads/2018/10/Post-Orthopedic-Surgery-Falls.jpg
533
800
Julie Dunn
https://schwanerinjury.com/wp-content/uploads/2016/04/Logo-837x321.png
Julie Dunn
2018-10-23 22:00:00
2018-10-24 22:16:52
Post-Orthopedic Surgery Falls