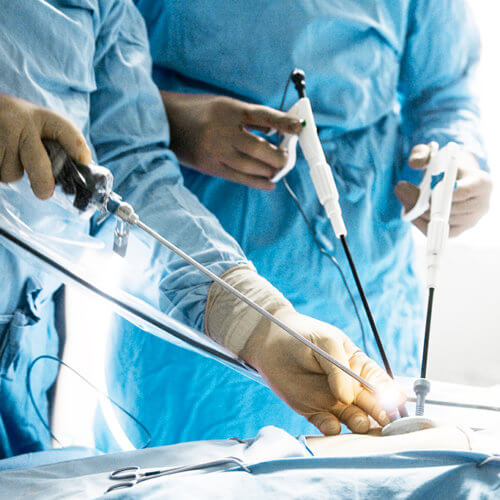 Laparoscopic surgery is intended to be a less invasive procedure than normal surgery. But, in some cases, there are complications. So, what happens if the complications of laparoscopic surgery are a direct result of your surgeon's error?
If you have experienced bowel injury as a result of laparoscopic surgery, you may be entitled to compensation for your injuries. Here's what you need to know to navigate bowel injury during laparoscopic surgery.
What Is Laparoscopic Surgery?
Laparoscopic surgery is a surgical procedure that uses smaller cuts as a less invasive way to perform a procedure. Through the use of a slender tool, doctors are able to insert a tiny video camera with a light at the end through a small incision in the body.
The video is used to see what's going on while small tools go in and perform the procedure.
The intention of laproscopic surgery is to allow the patient to benefit from:
Smaller scars
Less time in the hospital
Less pain
Quicker healing time
Ability to return to normal activities faster
Less internal scarring
But, sometimes, complications may arise and bowel injury can occur as a result of the surgery.
What Causes Bowel Injury During Laparoscopic Surgery?
Although bowel injury is a complication of laparoscopic surgery, it carries a high rate of morbidity and mortality. So, it can be particularly dangerous when it occurs.
As doctors turn to laparoscopic surgery for more advanced procedures, the risk of bowel perforation increases.
Because of the serious complications that come with bowel injury, it is important that doctors and surgeons do the following:
Perform a comprehensive preoperative evaluation
Follow proper consultations
Thoroughly assess the risk for certain patients
Even when surgeons follow the proper precautions, you may still be a victim of medical malpractice from a bowel injury during laparoscopic surgery.
The most common symptoms of medical malpractice from a laparoscopic surgery include:
Abdominal pain
Bloating
Nausea
Vomiting
Fever
Chills
Difficulty breathing
Weakness
The most common cause of bowel injury occurs as a laceration from entry. Others that occur are due to infrared heat used during surgery. While most bowel injuries are not diagnosed during surgery, delaying treatment can be life-threatening.
What Injuries Can Occur During Laparoscopic Surgery?
Although laparoscopic surgery is now widely used as an advantageous procedure, there are still a number of risks associated. One of the main risks associated with laparoscopic surgery is injury as a result of the trocar placement. This is the device used to open the incision so the other tools can easily pass through.
Trocar placement malpractice Injuries include:
Abdominal wall hematoma
Large bowel penetration
Blood vessel penetration
Umbilical wound infection
Life threatening hemorrhage
Peritonitis or bowel injury
When bowel injury leads to the leakage of bowel contents into the body, this can cause sepsis. Sepsis is a dangerous, life-threatening problem that can spread quickly and poison the entire body.
Unfortunately, many patients who experience bowel injury during laparoscopic surgery experience mortality as a result.
Legal Rights for Failed Laparoscopic Surgery
The main complication that arises with laparoscopic surgeries is the surgeons' ability to see what they are doing. Because visibility is often reduced overall, as the cameras navigate their way into tight spaces, surgeons have been known to misidentify organs and make incisions that were not necessary.
If you have experienced a bowel injury during laparoscopic surgery, it's important that you consult a Chicago lawyer to determine whether the injuries sustained were due to medical error. If they were, you are entitled to compensation from a medical malpractice lawsuit.
In most cases, surgeons fail to notice that an incisions was made in the wrong location. If they do not correct the damage immediately, it can lead to serious complications for you as a patient. If you experienced internal bleeding, infection, or septic shock as a result of a laparoscopic surgery, you should call a personal injury attorney in Illinois immediately.
Even if your loved one died after laparoscopic surgery, you may be entitled to compensation for your loss.
There are many patients rights you have when you undergo surgery. And, if you have sustained a bowel injury that is truly due to medical negligence, you shouldn't let that go. It's important to hire a lawyer as soon as you can if you think your injury was a result of medical negligence.
Your Chicago personal injury attorney can help determine whether your laparoscopic surgery resulted in malpractice:
Failure to notice an injury sustained during surgery
Failure to correct damage from an injury sustained during surgery
Failure to inform or consult a specialist of complications that are out of the surgeon's scope of expertise
Failure to call for a second opinion
Failure to properly observe you after the procedure
Overlooking evidence of surgical error
Failure to prescribe the proper use of antibiotics to prevent or treat an infection as a result of laparoscopic surgery
If you or someone you love has experienced a bowel injury following laparoscopic surgery, your Chicago personal injury attorney is ready to fight on your behalf. When you hire an attorney, they will handle your case while you focus on recovery.
You don't need to add the burden of unnecessary medical expenses on top of your already difficult road to recovery. We'll discuss the details of your case, go over your rights, and determine what damaged you may be entitled to so you can fight your way back to better health.
"
David Delivered More than Expected for Me in Every Way
"
5 stars
"Working with David was a pleasure. From the first time I spoke to himI felt at ease with him as he seemed more concerned with my well-being before all. He was always keeping me updated on everything every step through the process and was always available for me if I had a question. David delivered more than expected for me in every way and I would recommend him to anyone. A real class act with your best interest at heart!"
Frank T.
https://schwanerinjury.com/wp-content/uploads/2018/10/Bowel-Injury-During-Laparoscopic-Surgery.jpg
683
1024
Julie Dunn
https://schwanerinjury.com/wp-content/uploads/2016/04/Logo-837x321.png
Julie Dunn
2018-10-24 22:31:40
2018-10-24 22:31:40
Bowel Injury During Laparoscopic Surgery