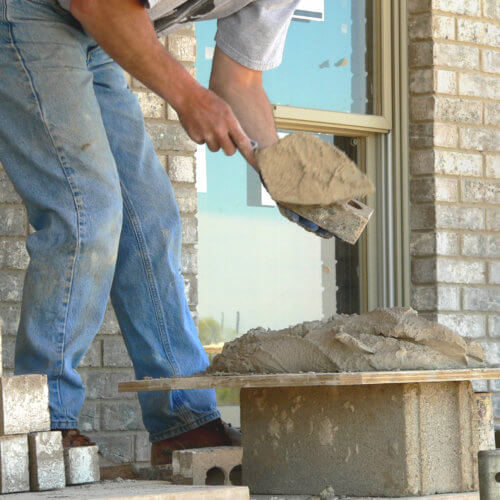 Tuck pointer injuries are very common in Chicago, IL. Masonry in one of the most dangerous of specialty trades, thanks to a high risk of injury. In fact, compared to other contracted jobs, masonry workers suffer the most serious injuries, and suffer them more often.
According to information from the Bureau of Labor Statistics, almost 200 in every 10,000 mason workers suffers injuries on the job at some point during their career.
Tuckpointing, which was originally a procedure designed to improve the appearance of brick joints but now also includes cleaning as well as repairing damaged bricks and mortar, is especially dangerous, because much of the work is done from elevated heights.
Most often, jobs involve repairing cracks in mortar, crumbling mortar, holes in mortar, uneven bricks and mortar made unstable due to water damage.
Common Tuckpointing Injuries
Some of the most common injuries for tuck pointers include:
Tuck pointers work on the outside of structures, in some cases multiple stories off the ground. Falls most often occur when scaffolding collapses, but improperly installed safety features can also cause falls. Falls can lead to fractures, traumatic brain injury, paralysis or death.
Struck by object. Being struck by an object such as tools is the most common masonry-related injury, and such injuries account for more than a quarter of all masonry injuries.
Muscle strains. Tuck pointers bend, lift and hold the same position for long periods of time due to the precise nature of the work they perform. Back, neck and hand and wrist strains and other injuries are also common.
Silica dust exposure. Tuck pointers are exposed to high levels of silica dust due to the grinding and removal of damaged mortar on brick buildings. According to the National Institute for Occupational Safety and Health, tuck points are exposed to 100 times more silica dust than is considered safe. Some potential health problems associated with high levels of exposure to silica dust include:

Silicosis. Silicosis is a progressive lung disease that causes scarring on the lungs, which can lead to a wide range of health complications including shortness of breath, chronic coughing, tuberculosis and an increased risk of cardio-pulmonary health problems including respiratory failure.
Lung cancer. The damage to the lungs caused by exposure to silica dust can lead to lung cancer.
Kidney disease. According to estimates from the National Institutes of Health, silica exposure elevates the risk of kidney disease by as much as 40 percent.
Injuries Caused by Failure to Follow Regulations
Because of the risks associated with silica dust exposure, the National Institute for Occupational Safety and Health recommends that tuck pointers use not only a breathing mask or ventilator, but also an industrial vacuum cleaner in order to significantly reduce silica dust exposure.
There are also requirements put into place to protect masons and tuck pointers from construction site hazards.
Employers must also comply with the regulations put into place by the Occupational Safety and Health Administration, which require employers to protect workers from injuries related to:
Failing to properly brace masonry walls.
Removal of bracing before the structure is stable.
Failing to support precast panels, which can weigh thousands of pounds.
Failure to properly guard rebar (reinforcing steel).
Inadvertent operation of equipment.
By failing to protect workers from such injuries, companies can be found negligent and would likely have to pay more than traditional workers' compensation for injuries suffered as a result.
In addition to workers' compensation, damages can include economic and non-economic damages, punitive damages and wrongful death.
Settlements in Tuck Pointer Injuries
One of the most common causes of injury for tuck pointers is related to scaffolding problems.
Employers can be found negligent by failing to properly install scaffolding, which accounts for a vast majority of the tuck pointer lawsuits filed against companies.
Scaffold injuries can be serious, resulting in fractures, neck and spinal cord injuries, paralysis, traumatic brain injury or potential death for those who were on the scaffold at the time of the collapse. For those who were beneath the scaffolding during the collapse, crush injuries from parts of the scaffolding or injuries caused by being struck by falling objects, both of which can lead to amputation of limbs, are possible injuries.
Unfortunately, most scaffolding collapses can be prevented by the proper construction and use of the elevated platforms. Supervisors or project managers who fail to ensure that the scaffolding isn't properly constructed would be considered negligent, because such carelessness put employees' lives at risk.
In one personal injury case, a tuck pointer was awarded a $13,750,000 settlement after suffering a traumatic brain injury following the collapse of a scaffold upon which he was working.
Another Illinois case ended in a $2 million settlement, one that also following a fall from scaffolding.
Tuck Pointer Injury Lawyers
If you or a family member were injured or are suffering an illness as a result of work as a tuck pointer, contacting a personal injury attorney can help you determine whether or not you are eligible for worker's compensation or should instead file a personal injury lawsuit in order to recover damages in your case.
The right attorney – one with experience in workers compensation, tuck pointer and other masonry-related injuries – can help you negotiate a settlement or will take your case to court if necessary.
We have experience in personal injury cases, and can help you navigate the complicated legal system in order to secure the best settlement possible regarding your case.
To schedule a no-risk appointment, call our offices today.
https://schwanerinjury.com/wp-content/uploads/2018/08/illinois-tuck-pointer-injury-lawyer.jpeg
1764
2400
admin
https://schwanerinjury.com/wp-content/uploads/2016/04/Logo-837x321.png
admin
2018-08-18 16:49:57
2018-08-18 16:49:57
Illinois Tuck Pointer Workers Compensation Guide