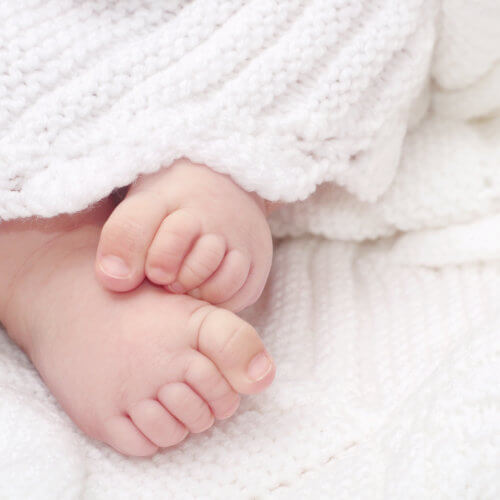 If a baby is born with jaundice – and approximately 60 percent of all babies born in the United States are, according to the Centers for Disease Control and Prevention – (Ref. 1), the biggest risk factor is kernicterus, a preventable brain damage that is caused when the high levels of bilirubin associated with jaundice don't dissipate.
Jaundice, a yellow coloring of the skin, occurs when too much bilirubin, produced as part of the breakdown of red blood cells, is present in the blood. It is more common in newborns because during pregnancy, the placenta handles bilirubin. Afterward, the baby's liver is responsible for breaking down bilirubin. If the liver is unable to work fast enough, jaundice can occur.
Children at risk of developing jaundice include premature babies whose livers are not yet fully developed, babies born with a blood type that is incompatible with the mother's and babies that experience bruising or other injuries at birth that can cause bleeding beneath the scalp, which can boost bilirubin levels.
In most cases, jaundice goes away on its own. When it doesn't, and levels of bilirubin remain high, it can lead to kernicterus, a type of brain damage that occurs when bilirubin moves from the blood into brain tissue.
Bilirubin levels are usually at their highest when a baby is between 3 and 5 days old, but from birth, babies should be checked every 8 to 12 hours during the first two days after birth and again before turning 5 days old. It is possible, however, for bilirubin levels to escalate any time within the first two weeks of a baby's life, so parents should be alert to symptoms.
Treatment for Jaundice
While mild cases of jaundice usually don't require treatment, if a baby's bilirubin levels are not going down or are instead rising, treatment is vital in order to protect against brain damage.
Some options include making sure that your baby is getting enough breast milk or formula. It is easier to dispose of toxins when taking in adequate amounts of fluid, and phototherapy, a treatment that uses a blue light to help break down bilirubin do it is easier to pass. Phototherapy replaces the previous use of sunlight, which can lead to sunburn.
If neither fluids or phototherapy are successful, a blood transfusion may be required to quickly and effectively lower bilirubin levels.
Symptoms of Kernicterus
Symptoms of jaundice include yellowing of the skin and eyes, but in most cases, especially if the jaundice does not extend past the abdomen and babies are behaving in a typical manner – they are nursing, alert, their muscle tone is normal and their crying is normal – it is likely not a cause for concern.
Kernicterus, however, is a serious side-effect of jaundice that can be completely prevented if jaundice is monitored during the first hours and days of a baby's life.
When bilirubin has spread from the blood to the brain, there are serious symptoms.
Babies are lethargic and sleepy, they can't be kept awake and they are difficult to wake up from sleep.
Crying changes from normal to one of a higher pitch.
Muscle tone decreases, with limbs becoming floppy interchanged with spasms including the arching of the head and back.
The arching of the heads can become even more pronounced as brain damage increases.
Fever may develop.
Seizures could occur.
The risk factors associated with kernicterus are serious. The disorder can lead to intellectual disabilities, cerebral palsy, which usually impacts motor function, and the loss of sight or hearing. Kernicterus can also be fatal.
A Mother's Story
One mother shared her story on the CDC website, where she described the 1995 birth of her son, Cal, who was diagnosed with jaundice at 16.5 hours old and 23 hours old, but at neither time was a bilirubin test performed. (Ref. 2)
He was released from the hospital when he was 36 hours old, despite being described as having jaundice from head to toe. His mother was told to put him in a window to help break down the bilirubin, although that is not how hospital officials described it.
While a follow-up was scheduled when Cal turned 7 days old, on day four, Cal turned lethargic and wasn't feeding properly, and tickling his feet – a recommendation from the newborn unit after the baby's frantic mother called to report his symptoms, didn't arouse him. A visit to a pediatrician also resulted in no bilirubin test, and Cal's mother was told to wait another 24 hours in hopes he would improve.
It was five days before a bilirubin test was done, and while his levels were high enough for a blood transfusion, he was given light therapy instead, a treatment that didn't work.
Cal wasn't diagnosed with kernicterus until he was 18 months old. The complications associated with his diagnosis are serious. He has cerebral palsy, hearing loss, speech impairments, body spasms and a lack of motor function that prevents him from walking independently.
Unfortunately, says his mother, her son's brain damage – and that of other children whose jaundice goes untreated – was preventable had doctors acted during the many opportunities they were made aware of the boy's condition.
If your child developed brain damage due to untreated jaundice, it's important to contact an experienced injury attorney who can help you obtain compensation for your child's health care needs.
At our offices, your consultation is free, and you won't be charged until we successfully settle your case.
REFERENCES:
https://schwanerinjury.com/wp-content/uploads/2018/06/Kernicterus-Injury-Attorney.jpeg
2928
4460
admin
https://schwanerinjury.com/wp-content/uploads/2016/04/Logo-837x321.png
admin
2018-06-15 12:10:29
2018-06-12 23:17:26
Kernicterus Injury Attorney - Chicago, IL