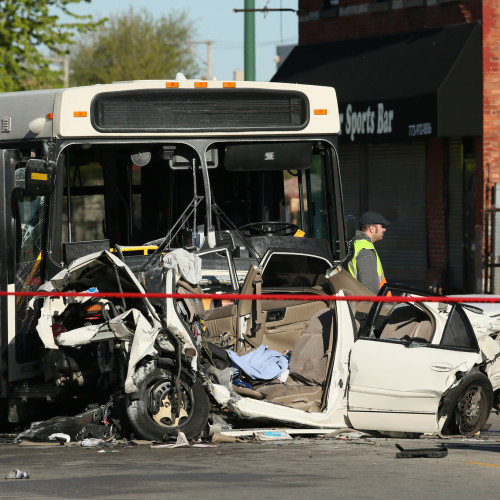 This blog post is a CTA & Bus Injury Guide for anyone injured on a CTA or Pace Bus in Chicago. A woman is seeking more than $50,000 in damages after she was injured attempting to board a Chicago Transit Authority bus last year.
Angelique Land-Harms was attempting to board the bus at 11:15 a.m. on September 16, 2016, when the driver accelerated "abruptly and without warning," according to the lawsuit, before closing the door to the bus before the woman could board.
Instead, Land-Harms was knocked to the ground, and the bus then ran over her foot and leg, causing severe permanent injuries, the suit states.
The incident occurred in Chicago's Jefferson Park neighborhood.
It is certainly not the first lawsuit the CTA has faced, nor will it be the last.
But the CTA has buffered itself against lawsuits – the government agency rarely settles with clients who file on their own – opening the door for Illinois and chicago bus accident attorneys to help clients take on the CTA and other bus companies, and win.
More About Chicago's Bus System
While there are a wide range of commercial buses traveling Chicago's highways including party buses, charter buses, tour buses, luxury limousine buses, Greyhound buses and school buses among them, the city has two main bus companies that provide public transportation, including the Chicago Transit Authority and Pace.
Chicago Transit Authority
The CTA is the second largest public transportation system in the nation, and on an average weekday, it accommodates approximately 1.64 million riders, many of them aboard CTA buses.
An independent government agency of the state of Illinois, the CTA began in 1947 when the Chicago Rapid Transit Company and the Chicago Surface Lines streetcar system merged. The company grew in 1952 when the CTA added the Chicago Motor Coach Company to its system.
Electric trolley buses were part of the CTA's bus fleet until 1973. At their peak in the 1950s, there were 700 trolleys, the largest fleet in the United States. The last trolley ran on March 25, 1973.
CTA buses were once known as "the green limousines" for the various shades of green that the CTA used through the 1980s.
CTA bus routes cover not only urban Chicago but also 30 of its surrounding suburbs.
In 2011, the CTA gave 532 million rides, with ridership levels escalating more than they have in 20 years.
Some CTA bus facts:
The CTA has 1,888 buses.

There are 130 CTA bus routes that cover 1,301 route miles.

CTA buses make about 18,843 trips a day.

There are more than 10,000 CTA bus stops in Chicago and the surrounding suburbs.

Buses provide about one million passenger trips a day.
CTA fares are $2 and can be paid with cash or a Ventra card (formerly known as Transit Cards, and based on the Latin word for "windy," a tribute to Chi-town's Windy City nickname) – a prepaid card that makes paying for transportation easier – which can also be used on the Metra rail line.
There are a variety of different discounted fare options, including student discounts, discounts for military service members or veterans and discounts for senior citizens. Up to three children under the age of seven can ride free with one fare-paying rider.
All CTA buses are handicap accessible, and the ramp on every bus is available upon request.
In 2014, the CTA received their first electric buses from New Flyer, making the CTA the first major U.S. transit agency to use electric buses as part of a regular service.
Pace Buses
Pace, which was given its brand name in 1985, was founded in 1983 as a way to consolidate the numerous separate suburban bus companies that were currently in operation in the Chicago area, making fares, branding, and management consistent among all the companies.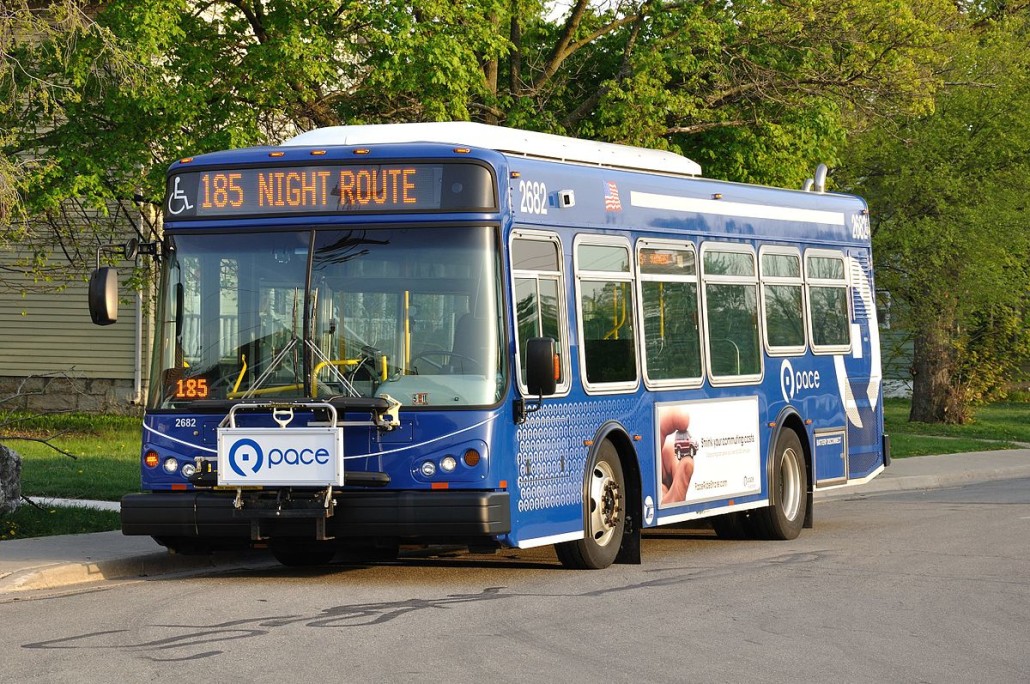 Originally dubbed the Suburban Bus Division of the Regional Transportation Authority, it became Pace in 1985.
While Pace originally focused on unification efforts and the renovation of both garages and buses in its fleet, in 2002 in launched Vision 2020: Blueprint for the Future, a plan to create a faster, more convenient network of buses with routes that are easier to understand.
Pace has been an industry leader in accessibility for those with disabilities, causing the American with Disabilities Act to give Pace responsibility for ADA paratransit in Chicago in 2006 instead of the CTA, making Pace the largest provider of paratransit service in the United States.
Other Pace facts:
In 2006, Pace established one of the largest vanpool programs in the national, creating a regional ridesharing program in Northeast Illinois before ridesharing services like Uber and Lyft became commonplace.

Pace is headquartered in Arlington Heights.

Pace is governed by a 13-member board, 12 who are either current or former suburban mayors, the 13

th

the Commissioner of the Chicago Mayor's Office for People with Disabilities, who is acting as a representative for the city's paratransit riders.

Pace serves six counties, Cook County, Lake County, Will County, Kane County, McHenry County and DuPage County. Pace also covers routes in Chicago and nearby Indiana.

In some areas, Evanston, River Forest, Oak Park and Skokie among them, both Pace and the CTA provide service.

Many of Pace's route terminals are located at CTA rail stations and bus terminals as well as Metra stations.

The CTA and Pace have used the same payment system, Ventra, since 2014.

Pace buses have longer routes than CTA buses because of its larger geographic service area.

All Pace buses are wheelchair accessible and have racks to accommodate one bicycle during all hours of operations.

Pace buses provide transportation for suburban riders to Chicago events such as Chicago Cubs games, Chicago White Sox games, Chicago Bears games and events at Northwestern University's Ryan Field. Pace also provides rides to events scheduled at the Allstate Arena in Rosemont and to Six Flags Great America in Gurnee.

In 2011, Pace received its first diesel-electric hybrid buses from Orion Bus Industries, the first buses in the Pace fleet to be powered by diesel fuel.

During weekday rush hours, Pace buses traveling the Stevenson Expressway are authorized to ride on the shoulder to avoid traffic congestion, potentially reducing the risk of injuries caused by speeding or other dangerous maneuvers to make bus stops on time.
Most Pace bus routes run daily, seven days a week, but the schedules don't satisfy riders who have working hours that are outside of the traditional 9-to-5.
Pace officials told the Chicago Tribune that they would like to expand routes to add more 24-7 routes such as those offered by the CTA, but the funding is not available to do so.
The only Pace route to run 24 hours a day is Route 352, the busiest of Pace routes according to Mike Boulton, executive director of strategic services for Pace. Route 352 runs from the CTA's Red Line station to the Harvey Transportation Center. All the other buses stop running between 10 p.m. and midnight.
Proposed cuts from Gov. Bruce Rauner, who could cut $20 million from Pace's $400 million annual budget, will only exacerbate problems for Pace riders.
"Ninety cents of every dollar the (Regional Transportation Authority) receives goes to the CTA and Metra to support (Chicago's) Central Business District, while Pace receives 10 cents of every dollar," said Rocky Donahue, Pace's deputy executive director of external relations, also to the Chicago Tribune. "If we had more funding, we could expand service throughout the system."
As it is, budget cuts would only add further restraints.
Tips to Ride the CTA and Pace Buses Safely
Both Pace and the Chicago Transit Authority drivers work hard to make rides safe for passengers, not only through training programs for bus drivers but also through regular upkeep of equipment.
Still, there are steps passengers can take to keep themselves safe and injury free when riding the CTA or Pace buses.
You may have seen it in movies and on TV shows and commercials, but never run after or next to a moving bus in hopes of catching it. Most likely, the bus driver won't see you, and even if he or she does, scheduling and safety usually prevent them from stopping.

Hold onto your child when boarding and exiting the bus to prevent slips and falls.

Wait for your bus to come to a complete stop before approaching it to board, a move that can help prevent some accidents.

Allow exiting passengers to get off the bus before boarding.

Watch your step, especially if weather is wet or icy or visibility is an issue, such as during evening hours.

If seats are available, take one. Otherwise, use handrails or straps to help you keep your balance if no seats are available.

Secure any items you bring onto the bus, and fold strollers if possible for the safety of other passengers.

If stopping, ring the bell or pull the cord a block before your stop, allowing the bus driver time to safely come to a complete stop.

Wait for the bus to come to a complete stop before exiting in order to avoid falling.

Exit through the rear doors when possible.

If you drop something when exiting, don't reach for it until the bus drives away, because you could end up in a blind spot with the driver unable to see you.

Never walk in front of a bus after exiting, and wait until the bus drives away before crossing a street. In 2014, Roberto Sauseda, whose wife was struck and killed by a CTA bus, filed suit against both the CTA and the driver of the CTA bus after his wife, Celia Sauseda, was killed after she exited the bus. According to the lawsuit, Sauseda exited from the rear of the bus and "walked toward the front of the bus and started to cross 47th Street when she was struck and killed by the bus." At the time of the incident, CTA spokesman Brian Steele said the woman either fainted or fell in the bus's path. The bus driver was not cited in the incident.

After exiting a bus, obey all pedestrian traffic signals and ordinances.

When in a bus terminal, don't walk in areas where buses are maneuvering in order to travel to or from boarding areas.

Keep track of your possessions.

Don't be disruptive toward other passengers if your actions will be a distraction for the bus driver. If someone else is being disruptive, put a stop to it only if it is safe for you or a group of passengers to do so. In 2015, Chicago resident Jerry Wagner broke his hip after he was bumped out of the back door of a CTA bus by roughhousing students. "They started pushing and shoving each other, I was at the back door and I literally got pushed out the back door," he said. "I hit the pavement. I don't think, as a matter of fact I know, the bus driver didn't know I fell because they just kept right on going after the door shut and I'm laying here thinking, 'What the hell is going on here?'" Wagner was enduring two hours of physical therapy a day at the time of the interview.
Chicago-Area Bus Accidents
Still, no matter how careful you might be while boarding, exiting or riding a bus, there are factors you cannot control.
Since 2012, there have been 1,058 crashes between CTA buses and other motor vehicles, according to statistics.
According to Brian Steele of the CTA, most crashes involving buses are not the fault of bus drivers but of other drivers.
"We have a lot of incidents in which vehicles rear-end buses, turn in front of buses, sideswipe them, so only a small percentage is really the result of actions by CTA bus drivers," Steele said in an interview with the Chicago Tribune.
"CTA buses are extremely safe," said Steele. "Everyday people are taking CTA bus trips and the overwhelming majority of those trips are without incident and when you look at the crashes compared to the amount of miles that we travel, the number really is low."
In some cases, Steele is right.
CTA Bus Accident Injury
In May of 2017, four people were killed and five others were injured when a car and a Chicago Transit Authority bus collided on Chicago's West Side.
All four of those killed were in the sedan, which had been traveling at a high rate of speed before colliding with a parked car and losing control, hitting the bus head-on.
Because of the impact, the two people in the back seat were pinned in the vehicle, which caught fire after the crash.
The bus driver and four passengers were also injured in the crash, police said, and were transferred to area medical facilities, where they were treated and released.
But in reality, many bus accidents are the result of negligence on the behalf of bus drivers.
In June of 2015, a 51-year-old woman who was happily planning her daughter's upcoming wedding was killed when a CTA bus that was stopped at a red light inexplicably accelerated, hitting at least two pedestrians including the woman killed in the crash as well as several parked cars before coming to a stop on the sidewalk on the other side of the busy street.
The woman who died in the incident was pulled beneath the bus.
The driver, who had been with the CTA less than a year, was alone on the bus when the accident occurred, and was later ticketed.
The accident ultimately raised questions about how driver's work schedules are selected.
At the time, drivers picked their schedules based on seniority, leaving many new, inexperienced drivers to pick up some of the city's more hazardous routes, including those involving rush-hour traffic.
"I have a very real concern that because of the way our pick system works, historically our most junior and probably least-skilled operators are the ones who end up operating our most difficult routes. That's something we need to take a hard look at," CTA President Dorval Carter Jr. told the Chicago Tribune.
Because of the fatality, which was attributed to driver inexperience, the CTA added more training, including how to safely maneuver when sharing the road with pedestrians, bicyclists and other vehicles.
The crash led to a wrongful death suit against the CTA.
In July of 2016, a mother and her three children were injured when they were hit by a CTA bus in the city's Lakeview neighborhood.
The children, a 6-year-old, a 2-year-old, and an 8-week-old, were transported to Lurie Children's Hospital.
"The infant flew out of the mom's hand and hit the concrete and it was just a horrific incident," one witness told Chicago's CBS news station.
"No one wants to see someone, especially a baby, being strapped into a gurney," said another witness. "Things can change in an instant. I turned around, and that's what was going on."
The CTA driver was cited for the accident in the incident.
PACE Bus Injury
In August of 2011, almost two dozen people were taken to Chicago-area hospitals after a Pace bus making a left turn swerved to avoid a car that had run a red light on Chicago's West Side. The Pace bus crashed into an abandoned brick building. Approximately 50 people were on the bus at the time of the accident.
In March of 2013, a woman was killed when the Pace bus she was a passenger on swerved to avoid a pedestrian who had run into the road, forcing the bus to strike a light pole. 58-year-old Ella Williams was pronounced dead at a local hospital.
Common Bus Accident Injuries
Buses weigh on average 20 tons and they are usually not equipped with safety features such as seat belts, putting passengers at risk of serious injury in the event of a crash.
If a bus crashes, passengers are thrown from their seats, tossed around the bus interior, slammed into other seats or smashed against the bus walls or windows, putting them at serious risk of injury.
Some potential and common CTA injury and Pace injury pedestrians experience, include:
Fractured bones

Spinal injuries

Muscle tears, torn ligaments and tendons

Cuts and bruises

Burn injuries

Head injuries resulting in brain damage

Permanent disabilities including paralysis

Fatalities
Beyond the physical injuries are emotional ones, including:
Post-traumatic stress disorder

Depression

Survivor's guilt

Insomnia

Anxiety

Panic attacks
Economic losses are also common following bus accidents, especially so because injuries tend to be severe.
Some potential economic losses include:
Medical bills. Even if you have insurance, co-pays, deductibles, prescription drug costs and injuries not covered by your insurance policy could wreak havoc on your finances.
Lost wages. If your injuries are severe, you may be out of work for some time, or may not be able to return to work at all. The loss of wages can have a serious impact on quality of life.
Other potential injuries include loss of consortium, which can occur when the physical and emotional injuries caused by an accident do serious damage to relationships, especially a marriage, as well as changes in quality of life, which is important if physical injuries no longer allow victims to participate in activities they once loved, such as gardening, weekend basketball games with the guys or regular yoga or spin classes.
One of the Worst Bus Crashes in Illinois History
In 1995, seven students riding a school bus in Fox River Grove were killed and more than 30 others injured when the bus – stopped at a traffic light on a busy highway, waiting to make a right turn – was struck by a Metra Union Pacific/Northwestern Line train on its way to Chicago.
The impact occurred because the bus had parked with its rear portion extended onto the tracks.
Although the driver, a substitute, had no idea part of the bus she was driving was on the tracks as she wasn't certain how long the bus was, the traffic lights and rail traffic at that location were supposed to be timed to avoid a train passing the traffic signal, located at a busy highway intersection, while any vehicles were stopped there.
"The signal is supposed to turn green (when a train approaches) to allow any traffic that may be trapped on the track to proceed," said Ken Rodgers of the National Transportation Safety Board.
The train's warning system including the gate and flashing lights did not engage until 21 seconds before the crash, when the bus was already on the tracks.
There was little the bus driver would have been able to do in order to avoid the crash, experts said, because there was a car in front of her and a car behind her.
Children at the back of the bus saw the train coming, and tried desperately to move to the front of the bus, witnesses said, while those at the front of the bus implored the driver to move off of the tracks.
"Everybody was telling her to get off the tracks," said one witness.
Zachary Davis, a 15-year-old freshman who was seated directly behind the driver in order to help guide her through the route, heard the train's horn seconds before the crash.
"I was just sitting there and then I heard a loud horn and I got a really sick feeling," he told the New York Times. "I had my eyes closed the whole time. I was down in a crouch position so I wouldn't get hurt. Then there was this terrible crash. After that, there was glass everywhere and blood. I could tell right away it was bad."
The train, No. 624, had struck a truck at the same intersection a month earlier. At the time of the bus crash, there were 100 passengers aboard the train. None of them were injured.
Following the crash, improved signaling systems were put into place at that railroad crossing.
The bus driver, Patricia Catencamp, was found to be at fault in the crash because of her failure to judge the distance between the railroad tracks and the traffic lights. She also became distracted when the children aboard the bus began screaming, and did not realize that the traffic light at the highway intersection had turned green, six seconds before impact.
Numerous lawsuits were filed after the crash, with a total of $27.3 million being paid to victims, $16.26 through the school district because of the role the substitute bus driver played in the crash, $7 million paid by the Union Pacific Railroad and Metra, $3.2 million by engineering contractors responsible for the dangerous intersection and $750,00 by the Illinois Department of Transportation.
Largest Bus Accident Settlements in Chicago
While the settlements following the 1995 school bus crash were extensive, they were not the highest settlements paid to cover bus-related accidents.
In 1990, a 14-year-old girl died when her foot became lodged in the door of a Chicago Transit Authority bus as it was closing. With her foot trapped, she fell backward, and was dragged before the bus ultimately ran her over, killing her while horrified passengers watched.
The bus driver, a 12-year veteran with the CTA, was charged with negligent driving.
The girl's parents later filed a $10 million civil suit against the CTA.
In 2017, the Chicago Transit Authority reached a $6 million settlement after a woman who was crossing Michigan Avenue on a green light was hit by a CTA bus making a right turn. The bus ran over both of her feet, leaving her with a permanent disability. Although the case was scheduled for trial, it was settled in mediation.
A man who experienced a traumatic brain injury in 2009 after he was hit by a Chicago-area school bus that was making a left turn while he was walking across the street in a properly illuminated crosswalk was awarded $8.8 million to cover the costs of his existing medical bills as well as future care. The incident was caught on the intersection's red light camera, and was featured in an expose on bus safety
Average Value of a Bus Accident Lawsuit
While you might be wondering what the average bus accident settlement might look like, based on those at the higher end of the scale, it's impossible to predict, because every case is different with its own unique set of circumstances.
Some factors that come into play when evaluating the potential monetary damages in a bus accident lawsuit include the following:
The severity of any CTA injury or injuries. Injuries experienced in bus accidents are often catastrophic, which can be both physically, emotionally and financially devastating. The more severe the injuries suffered in the accident, the higher the settlement will likely be, especially when taking into account medical bills, the costs of prescription drugs, hospitalization costs and therapy.
Requirements for long-term care. If injuries in a bus accident leave victims with permanent injuries, the settlement will likely be higher to cover the cost of life care including nursing care, transportation expenses and rehabilitation.
Loss of wages from the CTA accident. A bus accident case that results in serious injuries will likely provide compensation for long wages while recuperating from the accident or damages for future lost wages if the injuries are severe enough to prevent a victim from returning to work or from returning to the same job her or she had prior to the accident.
Pain and suffering. Compensation for pain and suffering varies from case to case, and is either decided during negotiations, mediation or by a jury if a case goes to trial.
Top Reasons for Chicago Bus Crashes or CTA Accidents
In 2014, a CTA shuttle bus slammed into a concrete barrier near Chicago's busy O'Hare International Airport, sending 15 to the hospital, some with serious injuries.
"People were thrown around the bus," Chicago Fire Chief Timothy Sampey said in a press conference. "Some were more critical than others."
The bus driver, who was later cited for failing to produce a drivers' license and failure to stay in the appropriate lane, was pinned in the crash and rescued by a firefighter who was on his way to work and was just two cars behind the bus when it crashed.
Bus accidents can occur for a wide range of reasons. Drivers can become ill and lose consciousness, drivers may be spending too much time behind the wheel, making them a road hazard, and other drivers may make hazardous maneuvers, failing to understand that buses have blind spots and may not see them from certain angles.
The leading causes of bus accidents, according to experts, include:
Weather. There's a pretty common saying in the Midwest that there are two seasons – winter and construction season, both of which are long and hazardous. With winter weather comes icy and snow that can cause slippery roads, black ice that is invisible, causing drivers to unknowingly act recklessly, and low visibility due to blowing snow, which is especially common in the Windy City, where wind blowing off Lake Michigan is especially brutal. Winter not only makes roads hazardous, it can also cause snow and ice to cover surfaces at a bus stop, station or bus entryway, making entering or exiting the bus risky.
Driver fatigue. Although bus drivers operate under strict regulations that govern the number of hours they can spend either driving or on duty, this particular safety regulation is often ignored by drivers anxious to make extra money. Driving longer hours puts drivers at risk of falling asleep behind the wheel or having slow reaction times that can make accidents less difficult to avoid.
Driver distraction. Distractions can easily cause accidents, either when someone on the bus or something outside of the bus causes the driver to take his or her attention off the road, or if the driver is creating his or her own distraction by using a cell phone or texting. Either is dangerous, but one is deliberate.
Speeding. While any vehicle is more difficult to control when traveling at high rates of speed, buses have a different center of gravity than other vehicles, making them more difficult to handle, especially when traveling at a high rate of speed when coming around a corner or sharp curve.
Safety violations. Some buses on the road are unsafe, either due to undiagnosed mechanical problems, neglected safety checks or repairs that have been put off in order to save money. While cutting corners is unlikely in a CTA or Pace bus, given the strict regulations by which they operate, it would be possible for a mechanic to miss a problem or misdiagnose one, putting passengers at risk.
Inadequate maintenance.

 

A careless maintenance worker can over- or under-inflate tires, triggering blowouts that can cause the bus to crash into other vehicles to crash.
Heavy traffic. Accidents are more likely to occur in an urban setting, where traffic can be heavy and drivers can be reckless, making Chicago riskier for not just bus accidents, but traffic accidents overall. Construction season can also be dangerous, since there are fewer lanes, traffic often slows to a crawl and equipment including cones and other items can act as potential safety hazards.
Aggressive driving. Bus drivers are as likely as other drivers to drive too fast and a bit too recklessly, especially if they are on a tight schedule that has been slowed by weather, traffic or road construction delays.
Drug and alcohol abuse. Commercial bus drivers face drug and alcohol testing, but random testing should be conducted on a regular basis to help prevent accidents.
Hazards in the road. While deer and other wildlife are more common in rural areas, buses that swerve to avoid wildlife, dogs, cats or other road hazards can unwittingly cause a crash.
Bus blind spots. Because of the size and design of buses, they have multiple blind spots for drivers, making it tricky for them to see what's going on around them at all times. Blind spots can be hazardous not only when the bus is in motion, but also when it is starting or stopping.
Inadequate training. Bus drivers should have a certain amount of training behind the wheel before they are eligible to drive. According to some lawsuits, some companies send drivers out without adequate preparation or experience, making them more prone to accidents. Allowing new drivers to gain experience while driving less treacherous routes would provide on-the-job training that would improve overall safety for buses on the road.
What Should You Do in the Event of a CTA Bus Injury?
Accidents happen, but for those who are involved in a bus accident, the event can be traumatic, especially if there are a number of injured people on the bus.
In order to protect yourself, there are some important steps you should take, if you are able.
Seek medical attention immediately. Not only is important to determine if you have sustained any serious injuries, it's also important to start a trail of medical records for those injuries. Not only will such records demonstrate the severity of your injuries if your case goes to court, they will also help ensure that an insurance company doesn't attempt determine if you've suffered injuries more serious than you might realize.
Notify the police. Police are able to reconstruct accident scenes to determine who is at fault, making a call to 911 essential, especially if you're injured in an accident that was not your fault.
Contact an attorney. If you've been injured in a Pace or CTA accident, talking to an attorney right away will not only ensure that you recall the events leading up to the accident to the best of your ability, but you will know what you need to do if you do think you have a case. Securing legal counsel as soon as possible will also make certain that you follow the right procedures and don't do anything to jeopardize your case, including missing any deadlines for filing appropriate paperwork.
Talk to witnesses. Get the names and addresses of any witnesses, including other people on the bus or witnesses on the street who may have seen the accident as it happened.
Do NOT get into an argument with the bus driver. No matter who was at fault in the event of the crash, try to stay calm so as not to say anything that could ultimately be used against you in court. An insurance adjuster will interview the bus driver, and if you behaved in an aggressive way, that may trigger an exploration of your personal history, painting a negative picture for a potential jury if your case goes to court.
Take notes and photographs. Take photographs of the accident and any damage to your vehicle or your person, and also take notes of road conditions and visibility including ice and snow on the roads or lighting at the time of the collision that could have had an impact. Also take notes of anything the bus driver or any other drivers involved in the accident say at the scene. Your information could prove important if your case goes to court.
Report the accident. If you were in a vehicle that was hit by a bus, report the accident to your insurance company if any property damage or injuries occurred.
Do not accept any claim before you speak with an attorney. Many large insurance companies including the private insurance companies that cover the CTA and Pace have settlement policies in place that encourage adjusters to offer quick payments to those involved in accidents, especially early on in the process when they may be more vulnerable.
Let your attorney do the talking. Talking to third parties – insurance company representatives or others – can put your case in jeopardy, depending on the questions you're asked or the issues that come up during a conversation. Saying the wrong thing to the wrong person can not only lower any potential settlement, it could put your entire case at risk.
Gather information. As you recover from any injuries, keep copious records. Your attorney will need your medical records, employment records if your injuries have kept you out of work and information about the other party or parties involved in the accident. If you took photographs at the scene of the accident or took down the names of witnesses, give that information to your attorney. He or she can then move forward gathering additional evidence to further your case. If your injuries are severe, you might also keep a journal tracking your progress. Here, you can also address any mental health issues such as post-traumatic stress disorder that may arise as a result of the accident.
Legal Options for Victims of CTA Bus Accidents
When a person is involved in a car accident, the process of recovering damages is fairly cut and dried. You either work with the insurance company of the party at fault or hire an attorney to do so.
Bus accidents, however, are usually an entirely different process.
The CTA and Pace buses are considered common carriers, which means that both must exercise the highest degree of care in order to ensure your safety and to prevent accidents from the time you board the bus until you have exited.
Despite this, however, many buses are owned by state or local government entities, which means that they are governed by certain specific rules and afforded some benefits that make it harder for individuals injured in a crash to recover compensation for the costs associated with their injuries.
Government entities are often protected by sovereign immunity, which puts into place special requirements in order to make a claim.
In some states, there are also caps on the total damages available.
While sovereign immunity often refers to a government's immunity or protection against a lawsuit, that protection is typically waived – if the plaintiff complies with the stricter procedural requirements put in place as protection for the government agency.
Not only is there a shorter statute of limitations set for filing a lawsuit – while most personal injury lawsuits must be filed within two years of the accident, bus accident lawsuits must be filed within a year of the accident – there is also a risk of evidence being destroyed if you don't act quickly. In some cases, bus accident evidence including black box evidence noting speed and other data that could factor into a lawsuit, can be destroyed within three months of the time of the accident.
Because of the time frame – thankfully double what it was prior to a ruling in 2009, which had limited filing to six months from the date of the accident, which was repealed by then-governor Patrick Quinn – it is important to act fast because the CTA and other government agencies still have the upper hand.
Hiring an attorney is your best first step, because an experienced Chicago bus accident attorney will be aware of the paperwork requirements as well as any deadlines, so you won't miss important dates for filing, which would lead to the risk of having your lawsuit dismissed, even if your injuries were the result of an error on the part of a bus driver.
If you're thinking you might attempt to handle your case on your own, understand that the CTA rarely, if ever, settles with an individual, making it almost imperative that you contact an attorney to help guide you through the complexities of a bus accident lawsuit.
What Does a CTA Bus Accident Attorney Do for Me?
A bus accident attorney will be your biggest asset if you are injured in an accident and need to file a lawsuit in order to be adequately compensated for your injuries.
Because the CTA is a government agency, it's vital that you hire an experienced attorney to represent you. The CTA will have investigators and a team of lawyers at the ready to discredit your case, even in the event of a serious accident that results in catastrophic, life-altering injuries.
Your attorney needs to be experienced and knowledgeable about the laws and regulations surrounding the CTA, because going up against the government and its seemingly unlimited set of resources can be intimidating.
The right attorney will protect you during what will be a grueling process and will work hard to help you secure a settlement that will cover the cost of your care, including future medical expenses and lost wages.
Your attorney will not only negotiate with insurance companies – although government entities are private, they are usually self-insured – they will also help you work with government agencies such as the CTA or school districts so that you file any important paperwork within the time allotted, and don't miss important deadlines that could derail your case.
Your attorney's work begins with your initial consultation, and will include the following:
An investigation of the crash. Your attorney or his or her team of investigators will gather evidence in your crash include police reports and other information. They may also go to the scene of the crash to do a reconstruction using experts as well as depositions from witnesses. Your attorney will also interview your physicians and any other medical professionals who are treating you to determine the extent of your physical and mental injuries, all of which will be used to determine a proposed settlement.
Gathering of evidence. Your attorney will track down police reports, black box evidence, witness statements and other information in order to build your case.
Negotiations on your behalf. Once your attorney has determined a fair settlement in your case, based on expert opinion as well as estimates of current and future care, he or she will attempt to secure a settlement based on the evidence he or she has gathered. Here, experience matters, because insurance companies, including private insurers, will work hard to maintain a profit margin, using years of training to negotiate a lower settlement. An experienced attorney will be able to negotiate a fair settlement, and won't let an insurance company offer a lowball settlement that won't adequately cover your costs.
Preparation for trial. If the insurance company or government agency fails to offer a settlement that is satisfactory, your attorney will either take your case to mediation, which gives an unbiased party an opportunity to settle between the two parties, or take your case to trial. A trial involves filing paperwork, taking the depositions of witnesses, the hiring of expert witnesses and other extensive preparation including prepping you to take the stand. An experienced attorney will start preparing for trial from the first consultation in order to build a stronger case.
Take your case to trial. If the defendant fails to settle before trial, your case will go to court. At trial, your attorney will provide evidence that supports your lawsuit, including medical expenses, lost wages and pain and suffering, sharing your story in such a way that a jury will understand and sympathize with you and recognize the extent of your injuries, strengthening your chances of securing a fair settlement.
If you or someone you love has an injury from a CTA Accident or Pace bus accident that was not their fault, our experienced bus accident attorney can help. Your initial consultation is free, and you won't pay a thing until we secure a settlement.
"
David delivered more than expected for me in every way
"
5 stars
"Working with David was a pleasure. From the first time I spoke to him I felt at ease with him as he seemed more concerned with my well being before all. He was always keeping me updated on everything every step through the process and was always available for me if I had a question. David delivered more than expected for me in every way and I would recommend him to anyone. A real class act with your best interest at heart!"
Frank T.
https://schwanerinjury.com/wp-content/uploads/2017/10/CTA-Bus-Injury.jpg
1365
2048
admin
https://schwanerinjury.com/wp-content/uploads/2016/04/Logo-837x321.png
admin
2017-10-19 20:19:21
2018-05-15 20:05:13
CTA & Bus Injury Guide - Chicago, Illinois