Were you injured in a truck accident in Schaumburg? A northwestern suburb of Chicago and just 10 miles from Chicago's O'Hare International Airport, Schaumburg may have a population of just 75,000 people, but the village is anything but sleepy.
Home to one of only two Ikea stores in Illinois, Schaumberg is part of the Golden Corridor, a section of Interstate 90 that is home to industrial and office parks, Fortune 500 company headquarters and more, the village also has its share of truck traffic making deliveries, which puts it at high risk of accidents.
Chicago is a traffic hub, as some of the busiest interstates in the United States meet in the city, then spread out across the rest of the country.
Two of those interstates, I-90 and the Chicago bypass I-290, are common truck accident zones.
In 2016, eight people were injured when a semi driver failed to slow down for traffic that had slowed, slamming into five other vehicles that were slowed on Jane Addams Tollway section of Interstate 90.
Eight people were hospitalized Sunday after a six-vehicle crash involving a semitrailer truck on the Jane Addams Tollway (Interstate 90) in Schaumburg, according to Illinois State Police.
Schaumburg Personal Injury Danger Zones
While I-90 is likely ground zero for truck accidents in Schaumburg given the traffic that travels the route, one of the busiest to cross through the Chicago area, it is not the only area of Schaumburg where accidents are more likely to occur.
Some of the most dangerous Schaumburg area roadways, based on statistics, include:
Elgin-O'Hare Expressway
Irving Park Road
Wise Road
West Schaumberg Road
Illinois Boulevard
McConnor Parkway
Barrington Road
South Braintree Drive
Weathertree Drive
South Springinsguth Road
Illinois Highway 53
Higgins Road
In 2017, a loaded garbage truck tipped over on Higgins Road in rural Schaumburg, flattening the vehicle next to it and sending both drivers to local hospitals (1).
It was not clear at the time of the accident what caused the truck to tip over, but garbage can be loaded in an unsafe manner in the same way as freight, putting the truck at risk of overturning or jackknifing if the driver makes an unsafe or aggressive move.
Aggressive drivers are usually in a hurry due to delays on the road, and are attempting to make up time in order to reach their destination on time.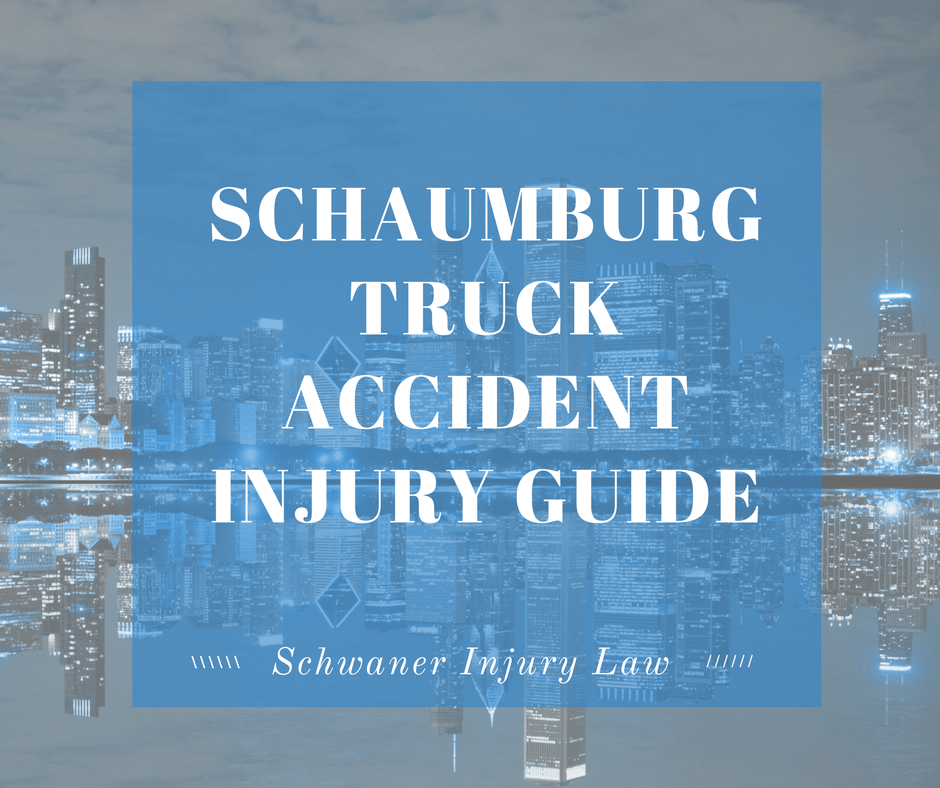 Causes of Schaumburg Truck Accident Injury
While aggressive truck drivers can be the cause of accidents on the road, there are other problems facing Schaumburg-area truck drivers and the passenger vehicles that are also on the roads.
Some include:
Faulty equipment. According to a joint study by the Federal Motor Carrier Safety Administration and the National Highway Traffic Safety Administration, brake problems – most often caused by a failure by the truck driver or the company to properly maintain them – are the most common cause of truck accidents on U.S. roadways, which is especially hazardous on busy urban streets or on hilly or mountainous highways. (2)
Driver Fatigue. Drivers are often pushed to make tight deadlines, with no time built into their schedule accounting for traffic jams, construction or other things that slow traffic to a crawl. That sometimes forces drivers to stay behind the wheel past the federally mandated limit, pushing themselves beyond what is safe for both them, but not only other drivers.
Trucks that are over their weight limit. Tractor-trailers are already more difficult to slow down than traditional passenger vehicles, so they can't respond as quickly to hazards in the road. If a truck is overloaded, it is even more difficult to come to a stop, and that could lead to an accident.
Poorly trained drivers. While most companies give their drivers adequate training before sending them out on their own, some shirk not only classroom time, but also time behind the wheel, so inexperienced drivers are attempting to maneuver through city streets with very little training.
Distracted driving. Drivers often find themselves on unfamiliar roads, and turn to a GPS system to help them properly navigate. The trouble is, GPS systems, cell phones, radios and other electronics, food and drinks and activity alongside the road (those walking Statues of Liberty that are in every city during tax time, for example) can be distracting enough to lead to a serious accident. Distracted drivers can cause serious injury to motorists.
I Was In a Truck Accident in Schaumburg, IL. What Should I Do?
If you were involved in a truck accident and driver negligence was to blame, it's important to talk to an experienced personal injury lawyer or truck accident attorney to determine your options.
Truck accident law is complex, and while it may seem obvious that the driver is to blame, it could be the trucking company or the manufacturer of a failed part that is ultimately responsible for the accident and is the party that should be held accountable in court.
The right attorney will be able to wade through evidence to determine who is to blame, then confidently negotiate with insurance companies or if negotiations fail, go to trial to seek a fair settlement to cover the damages you deserve.
Our personal injury firm charges nothing for your consultation, and you won't be charged any attorney fees until we win your case.
If you have questions, we have the answers. Call us today.