Based on accident statistics from the last decade, Euclid Avenue is one of the most dangerous streets in Arlington Heights, Illinois, and one of the areas in the village where truck accidents, including one in 2013 between a passenger vehicle and a moving truck, are more likely to occur (1).
A suburb of Chicago, Arlington Heights has an estimated population of just over 75,000, which makes it one of the largest incorporated villages in the United States (2).
While the village sounds sleepy, Arlington Heights is home to a racetrack that draws regular traffic, and recently experienced a new business boom, which makes it a risk factor for truck-related accidents as vehicles bring deliveries to stores, restaurants, gas stations and other establishments.
Several movies have also been partially filmed in Arlington Heights, including one of the movies in the "Nightmare on Elm Street" series, which tends to draw plenty of traffic, adding to congestion and creating an environment that's more of a risk for accidents.
Arlington Heights Accident Danger Zones
While Euclid Avenue was the site of numerous accidents during a 10-year period, it is not the only area of Arlington Heights where accidents are more likely to occur.
Some of the most dangerous Arlington Heights-area roadways, based on 2014 statistics, include:
I-84
East Rand Road
North Kennicott Avenue
Walnut Avenue
Windsor Avenue
US-12
Bloomington Avenue
Davis Avenue
In 2015, a truck failed to pay attention to posted height restrictions and became stuck beneath an underpass while traveling on Davis Avenue, causing Metra train traffic along the route to be delayed while officials worked to free the tractor-trailer (3).
While no one was injured in the accident, truck accidents have the potential to be devastating, especially when a much larger truck collides with a passenger vehicle (4).
Causes of Arlington Heights Truck Accidents
In 2015, a truck driver fell asleep at the wheel on Interstate 84, just outside of Arlington Heights. His semi crashed into a median and overturned, spilling diesel fuel into the road and sparking a fire that destroyed his vehicle.
While luckily no one including the driver was injured in the accident – a driver carrying hazardous materials suffered the worst possible outcome related to driver fatigue, which could have been deadly – that section of I-84 was closed while hazmat teams cleaned up the fuel.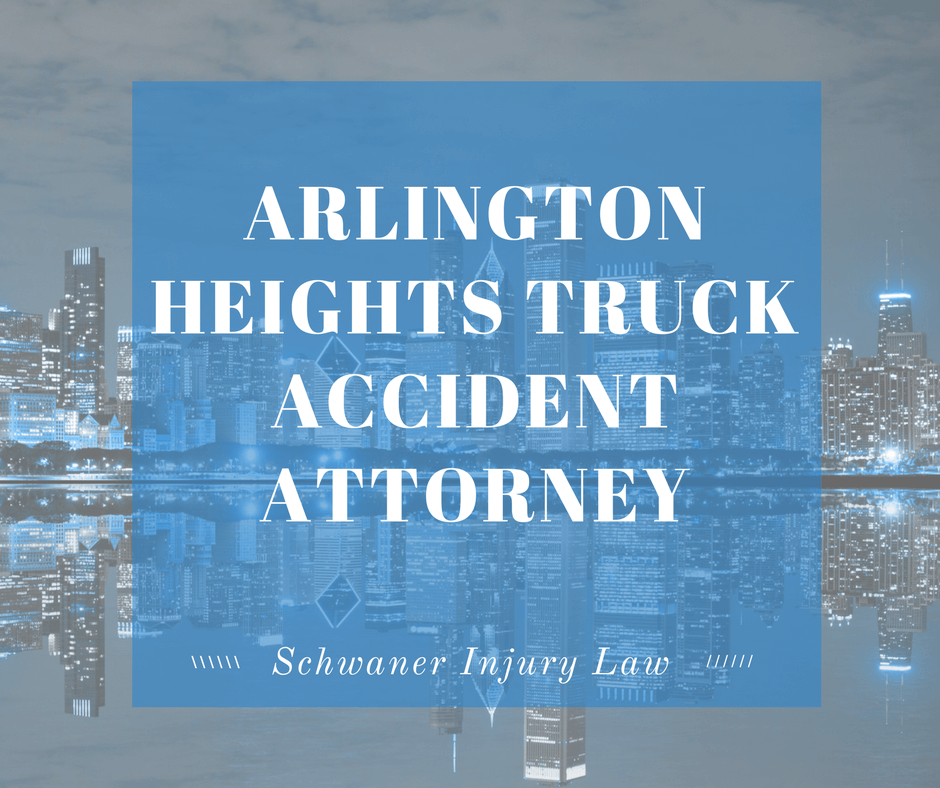 Driver fatigue is one of the most troublesome causes of truck-related accidents, because many truck drivers are perpetually fatigued, driving under strict deadlines to carry cargo to cross-country destinations (5).
Other common truck-related accidents are caused by:
Faulty equipment. Tires and brakes are the most common equipment failures.
Driving under the influence. Drugs to keep drivers awake and alert as well as drugs and/or alcohol to ease the stress of a job that keeps the driver away from family and friends are both associated with many truck accidents.
Blind spots. Trucks have multiple blind spots, making merging and lane switching potential dangers on the road, especially if other drivers aren't defensive on the road.
Distracted driving. Drivers often travel roads that aren't familiar and rely on GPS systems to get them to their destination. GPS systems, cell phones, the radio and other electronics can be serious distractions for drivers, who may look away from the road for just a second, long enough to cause a serious accident (6). In fact, Federal Laws are targeting stricter standards for distracted driving (7).
Aggressive driving. Truckers eager to get to their destination may drive aggressively, especially in city traffic such as Arlington Heights, when speed limits and stop lights can cause even more delay.
Do I Need an Attorney My Accident?
If you or someone you love has been in a truck accident in Arlington Heights, it's important to hire a law firm that's experienced in such cases. An experienced attorney can help guide you through the complexities of truck-related accident cases so you can be properly compensated for any injuries or property damage.
While you may feel as though an attorney isn't necessary, tractor-trailer accidents can be complex, in part because of the wealth of both state and Federal Department of Transportation regulations. These regulations cover the operation, ownership, repair and maintenance of commercial trucks.
They also cover the many different parties that could potentially be held liable in a lawsuit, including a truck driver in the case of driver error, the truck's owner if truck maintenance was an issue or a shipping company if cargo handling led to the mishap.
An experienced truck crash attorney can confidently gather the proper evidence to successfully fight your case, including paperwork, black box recordings, witness statements and expert testimony, providing you with a legal team that will take on the challenges of your case so you can focus on recovering from your injuries.
Our firm comes with experience in negotiations as well as courtroom experience, so we won't take the first offer from an insurance company, but instead will fight for a fair settlement that will cover all of the costs associated with your accident.
Consultations are free, and you won't be charged until we win your case.